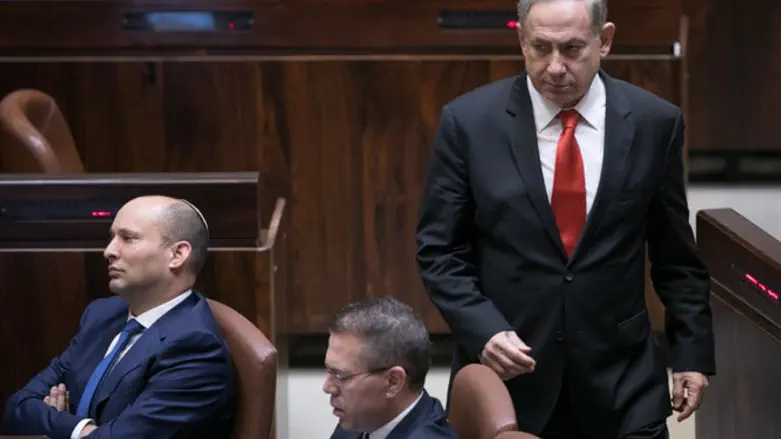 Binyamin Netanyahu, Naftali Bennett, Gilad Erdan
Flash90
The Security Cabinet held an unusually long and stormy session Sunday evening, just days ahead of Prime Minister Binyamin Netanyahu's planned meeting with President Donald Trump in Washington D.C. scheduled for Wednesday; it is to be the first meeting between the two since Trump took office on January 20th.
According to the Prime Minister's Office, the cabinet members presented their positions on various hot-button issues likely to be raised during Netanyahu's meeting with Trump, including the Iranian regime, the Syrian civil war, the Palestinian Authority, and the US-Israel relationship.
The official statement released by the PMO added that all ministers in the cabinet concurred regarding the importance of the trip and the need to improve relations between Israel and the White House – including between the Prime Minister and the Commander in Chief, following eight years of strained relations between Washington and Jerusalem.
The Prime Minister's Office stressed that the "atmosphere of the meeting was relaxed and businesslike."
"At the conclusion of the meeting, the ministers blessed the Prime Minister and wished him good luck."
Sources privy to the meeting told Arutz Sheva that Jewish Home ministers Naftali Bennett and Ayelet Shaked called upon Netanyahu to make clear to President Trump he intends to renounce the two-state solution, the Prime Minister allegedly warned them Israel must avoid any possible clashes with Trump.
According to the sources, Netanyahu also attempted to rein in expectations regarding construction in Judea and Samaria in the post-Obama era. The Prime Minister reportedly told ministers that "anyone who believes construction will be unrestricted in the new era is mistaken."
Netanyahu added that he would not make any declarations prior to his meeting with the new president, saying that he needs to gain a better understanding of Trump's position on Israeli construction in Judea and Samaria.
The Prime Minister further stated that there have been mixed signals thus far regarding Trump's own position vis-a-vis Jewish housing in Judea and Samaria, and that he will learn firsthand how the president's views are before making major policy decisions.
Several Likud ministers also pressed the Prime Minister on several key issues, including annexation of Maaleh Adumim and other towns close to Jerusalem and expanded construction outside of the major blocs in Judea and Samaria.

According to senior political officials who spoke with Arutz Sheva, Netanyahu will offer to restart negotiations with the Palestinian Authority during the meeting, while demanding that the PA join in bilateral talks with no preconditions - an offer made by the Prime Minister again and again since returning to office in 2009. The sources added that the Prime Minister will likely highlight that while his offer is genuine, the odds of it being accepted by the PA remain low.