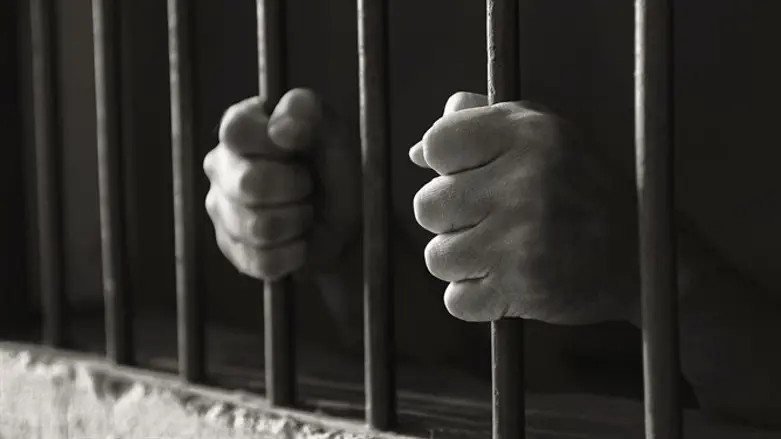 Prisoner captive jail bars
Thinkstock
An IDF soldier who was sentenced to 20 days of imprisonment after calling on fellow soldiers to refuse to participate in the evacuation of Amona and for refusing to participate in preparing bases for the evacuating forces, petitioned via the Honenu legal aid organization which demanded his release.
The soldier submitted an appeal against his sentence last Wednesday, According to military orders appeals must be adjudicated within 72 hours, or the original sentence becomes void.
On Saturday night, when the appeal had not yet been adjudicated, Attorney Menahem Stauber, representing the soldier via Honenu, sent an urgent request to the Military Prosecutor demanding the immediate release of the soldier.
However the next day an officer came to the soldier and presented the appeal with a date which corresponded to Shabbat. The amazed soldier said that the date is forged, claiming that he had a copy of the original appeal in his possession. Stauber then demanded that the prison cameras be used to prove when the appeal was submitted and who forged another appeal.
The Military Prosecutor decided to prevent the soldier's release and told Stauber that the Deputy Chief Military Prosecutor had decided to allow the hearing on the appeal to take place later than as specified in the military orders. The officer in charge of the appeal rejected it and sent the soldier back to detainment despite the forgery and the fact that the appeal was not adjudicated within 72 hours.
Stauber appealed to the Supreme Court regarding the legitimacy of the arrest and stated that "beyond the legal problems with the procedure, the forging of a document by army authorities is an extremely serious step which should trouble everyone. The intervention of the deputy Chief Military Prosecutor and his decision to allow a hearing in contravention of army orders is out of line and should be examined by the Supreme Court."
The court will discuss the matter next Tuesday. The Honenu organization stated that "forging a document is a serious crime which should be investigated thoroughly. However the decision of the Military Prosecutor also reeks of political overtones and adds insult to injury. Apparently the establishment is willing to bend the rules to prevent the soldier's release because he objected to the destruction of Amona."