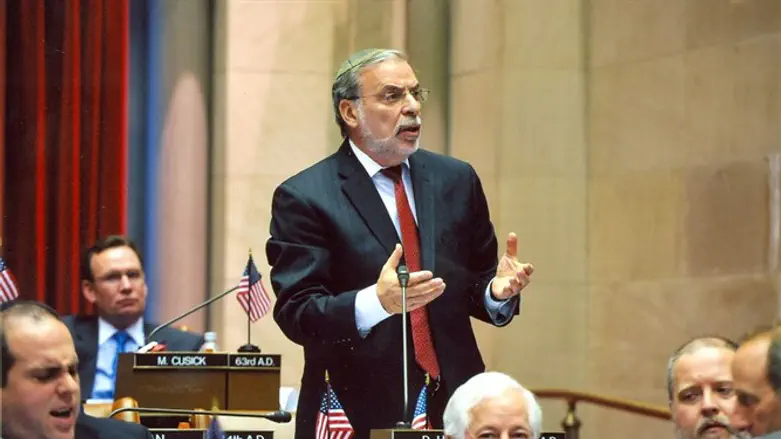 New York Assemblyman Dov Hikind
Office of Assemblyman Hikind
The New York State Education Department has apologized for including a political cartoon on its global studies Regents exam that some charged was anti-Israel propaganda.
The cartoon depicts three corpulent, armed IDF soldiers using an overturned table as a shield, with one saying, "I knew this peace table would come in handy someday."
Students who took the test administered on Jan. 24 were asked, "What is the main idea of the cartoon?"
Several students expressed indignation while taking the New York State Regents exam upon being confronted with the cartoon. One state education source responded to calls for an explanation by saying that the exam questions are created by teachers and tested on a sample of students before they are used.
The American Jewish Congress (AJC) called for an apology from the leader of the New York State Education Department Board of Regents, Chancellor Betty A. Rosa, stating that "we believe that the education system should be free from insensitive and offensive material that can create prejudices and fill the minds of our children with lies."
The department, according to AJC president Jack Rosen, then responded by issuing the following statement:
"We regret this test question was included in the Regents exam and apologize to those who were offended by it. We are reviewing our internal procedures to vet all questions to ensure inappropriate questions are not included on future exams.
"Political cartoons contained on Regents exams are sometimes very pointed and thought-provoking but they are never intended to represent the point of view of the Board of Regents or the Education Department on a given issue."
New York State Assemblyman Dov Hikind, who first drew attention to the offensive cartoon, welcomed the news of the apology, adding that "this cartoon was pure, unadulterated anti-Israel propaganda, I'm happy the Education Department realized this cartoon was offensive. The only question is why didn't they realize it two weeks ago."