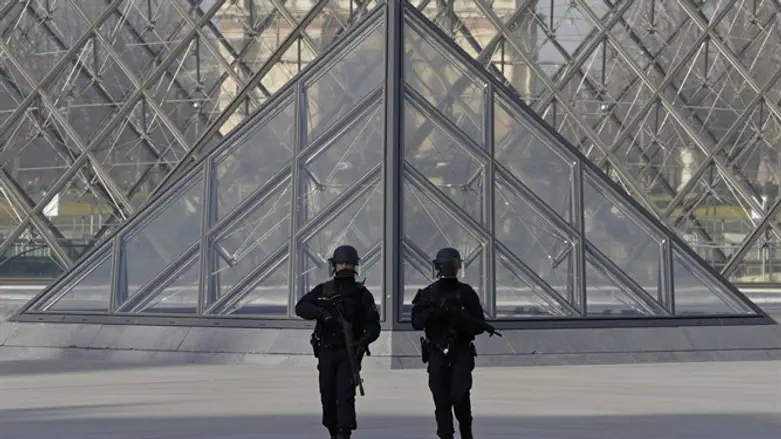 French police secure the site near the Louvre Pyramid
Reuters
The suspect in last week's machete attack on soldiers at the Louvre Museum in Paris told authorities he had acted alone and did not receiver orders from the Islamic State (ISIS) jihadist group, sources close to the investigation said on Wednesday, according to France 24.
The suspect, a 29-year-old Egyptian national identified as Abdallah El-Hamahmy, allegedly shouted "Allahu Akbar!" while rushing toward the soldiers and was shot four times after slightly injuring one of them.
Earlier this week reports said that he remained silent and refused to cooperate with French investigators, but later broke his silence.
El-Hamahmy said that he went to the Louvre last Friday morning with the intention of committing a symbolic attack against France by defacing one of the museum's masterpieces with spray paint found in his backpack, and did not mean to assault the four soldiers, sources close to the investigation told AFP.
He stressed that he acted alone, denying he was under orders from ISIS.
El-Hamahmy legally entered France on January 26 from Dubai, where he was a resident, according to France 24. He is believed to have stayed in an apartment near the Champs-Elysées in Paris's 8th or district, where police found €900 in cash, an iPad and several pre-paid cards in a search last week.
In the days after his arrival, El-Hamahmy is thought to have rented a vehicle before buying two machetes at a store in the French capital's eastern 12th district.
Investigators are focusing their attention on a Twitter account that El-Hamahmy is suspected to have used to post dozens of messages in Arabic just minutes before the attack, according to France 24.
"Why are they afraid of the creation of a state for Islam? Because the state of Islam defends its resources and the honor of Muslims," read one tweet.
"In the name of Allah... for our brothers in Syria and fighters across the world," declared another.