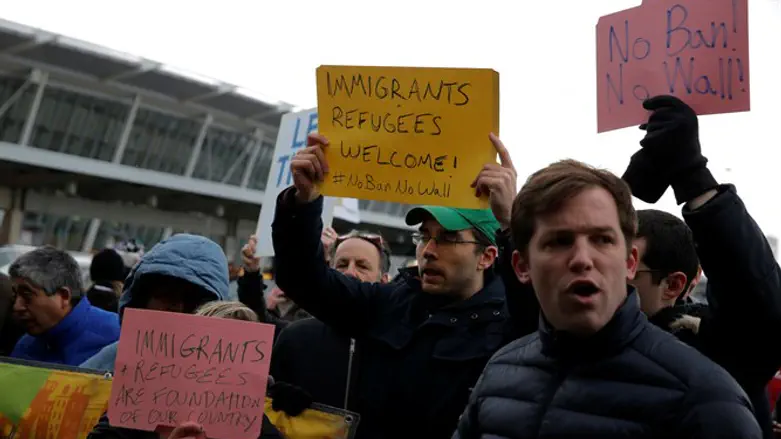 Protest outside JFK airport against Trump's immigration ban
Reuters
The U.S. 9th Circuit Court of Appeals in San Francisco on Tuesday heard more than an hour of arguments from attorneys for Washington state and the Justice Department over whether to reverse a stay of President Trump's immigration restrictions, but did not issue a ruling.
The Los Angeles Times reported that Judge Michelle Friedland said the court would come to a decision "as soon as possible."
Legal experts said they expected to hear from the court within days. An earlier news release from the court said that "a ruling is not expected to come down today" but would "probably" be issued sometime this week.
Friedland and two other federal judges questioned the lawyers on both sides in a hearing conducted by telephone.
The hearing comes after a federal judge in Washington state halted Trump's order and granted a nationwide stay on Friday.
The Justice Department later appealed the judge's order, but the appeal was denied by the Court of Appeals before. On Monday, the Justice Department asked the federal appeals court to restore Trump's ban on travelers from seven majority-Muslim nations.
The Department argues that U.S. District Judge James Robart's order was "vastly overbroad" and says Trump's executive order was "a lawful exercise of the President's authority over the entry of aliens into the United States and the admission of refugees."
"This is a traditional national security judgment that is assigned to the political branches and the President," August Flentje, special counsel to the assistant attorney general at the Justice Department, told the panel of judges from the Ninth Circuit Court of Appeals on Tuesday, according to CNN.
Friedland out of the gate asked if the government could point to any evidence "connecting these countries with terrorism."
Judge Richard R. Clifton seemed sympathetic to the fact that the states have the standing, or ability, to bring the suit against the administration.
Clifton called the government's argument "abstract," noting there are existing procedures to vet individuals for visas.
Washington state Attorney General Noah Purcell, representing his state and Minnesota, which are challenging the Trump executive order, defended the role of the courts.
"It has always been the judicial branch's role to say what the law is and serve as a check ... has never been more important than it is today," he said, according to CNN.
If the court were to lift the injunction it would throw the country back into "chaos," he added.
Trump was critical of Robart for overturning his travel ban in several Twitter posts on Saturday.
"What is our country coming to when a judge can halt a Homeland Security travel ban and anyone, even with bad intentions, can come into U.S.?" Trump tweeted.
"Because the ban was lifted by a judge, many very bad and dangerous people may be pouring into our country. A terrible decision," he added.
On Sunday, he criticized the judge again, writing on Twitter, "Just cannot believe a judge would put our country in such peril. If something happens blame him and court system. People pouring in. Bad!"