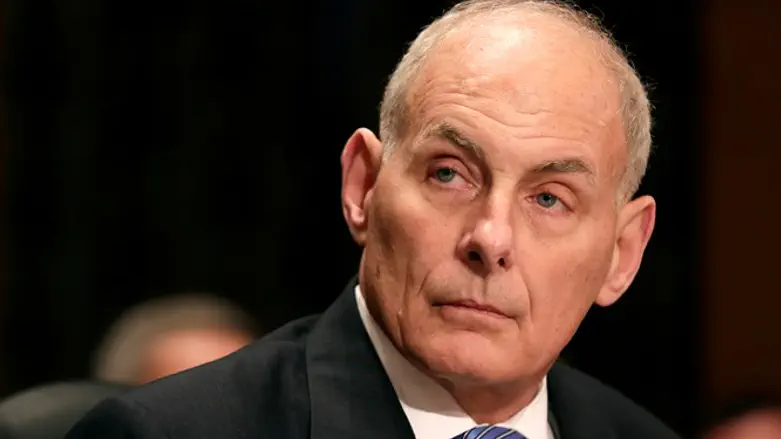 John Kelly
Reuters
Homeland Security Secretary John Kelly admitted on Tuesday that the Trump administration should have taken more time to inform Congress before implementing the executive order temporarily blocking entry of people from seven Muslim-majority nations.
"The thinking was to get it out quick so potentially people coming here to harm us would not take advantage" of a delay, Kelly told the House Homeland Security Committee, according to The Wall Street Journal.
Kelly, making his first congressional appearance as a cabinet member, fully defended the order, stressing it was not a ban on Muslims as critics have charged, but a "temporary pause" on immigrants and visitors from countries about whose residents the U.S. can't access solid information.
At the same time, noted The Wall Street Journal, Kelly sought to take responsibility for the chaotic rollout, saying the confusion was "all on me."
"Going forward, I would have certainly taken some time to inform the Congress and certainly that's something I'll do in the future," he stressed.
A federal court in Seattle temporarily put the order on hold on Friday, citing potential legal concerns.
On Saturday night, the Justice Department night appealed the judge's order, but the appeal was denied by the Court of Appeals for the Ninth Circuit.
Trump was critical of James Robart, the judge who overturned his travel ban, in several Twitter posts on Saturday.
"What is our country coming to when a judge can halt a Homeland Security travel ban and anyone, even with bad intentions, can come into U.S.?" Trump tweeted.
"Because the ban was lifted by a judge, many very bad and dangerous people may be pouring into our country. A terrible decision," he added.
On Sunday, he criticized the judge again, writing on Twitter, "Just cannot believe a judge would put our country in such peril. If something happens blame him and court system. People pouring in. Bad!"
In his remarks on Tuesday, Kelly likened judges to academics removed from on-the-ground realities.
"I have nothing but respect for judges, but in their world it's a very academic, very almost in-a-vacuum discussion, and of course, in their courtrooms, they are protected by people like me, so they can have those discussions," he said, according to The Wall Street Journal. "They live in a different world than I do. I'm paid to worst-case it, he's paid to, in a very academic environment, make a call."