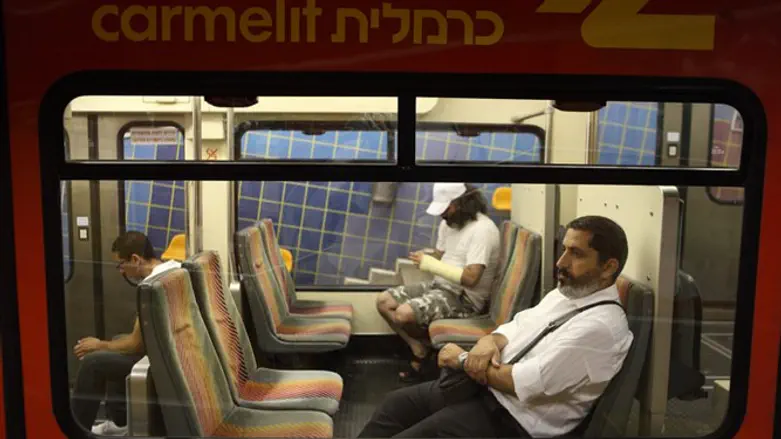 Haifa's Carmelit
Flash 90
Thirteen firefighting teams on Saturday battled a fire in Haifa's Paris Station after two "Carmelit" train cars caught on fire. Heavy smoke spread to other underground stations and forced the closure of surrounding streets, with the exception of Hanassi Blvd. One neighborhood resident, a woman of approximately 70 years old was treated for minor smoke inhalation.
The firefighters were first alerted to smoke in the Hanevi'im Street station, and then began searching for the source of the fire. They also requested Israel Electric Company shut off electricity in surrounding neighborhoods to prevent the fire from spreading.
The Carmelit, Israel's only subway system, does not operate on Saturday, but according to Israel Radio, rescue workers still checked to see if anyone was in the tunnels. It is possible that maintenance workers caused the fire.
Authorities said on Saturday evening that the fire was most likely caused by a technical or electrical malfunction.
According to Channel 2 News, the damage from the fire is estimated to cost tens of millions of shekels.
The Carmelit, first opened in 1959 and renovated in 1992, is a funicular underground railway with 6 stops, each in another central area of Haifa, the city built in tiers on the slopes of Mount Carmel . It is expected that subway operations will not be renewed for some time.