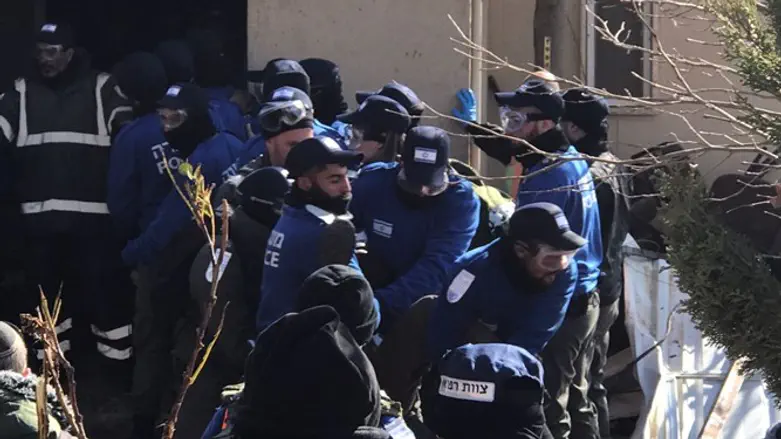 Demonstrators removed from Amona synagogue
Eliran Aharon
The evacuation of the 42 families which made up the community of Amona has been completed. More than 1,000 supporters of Amona were also removed from the town by police.
The police stated that 60 officers were lightly injured during clashes.
The Commander of the District Police of Judea and Samaria, Moshe Barkat said that many of the policemen were injured while evacuating protesters who had barricaded themselves inside the community's synagogue.
Commander Barkat said: "The first entrance to the synagogue was accompanied by violence, five policemen were injured in the first minutes...The protesters used fire extinguishers and crowbars against the policemen. This violence was certainly not suited to a holy place such as a synagogue."
The Honenu legal organization reported that over 20 injured people remained in the Synagogue during the evacuation. Six of them were evacuated to Hadassah Ein Kerem Hospital. Lawyers from Honenu said they would go to the hospital to collect testimony and evidence from injured activists.
A spokesperson for Magen David Adom stated that the its responders had treated dozens of people for injuries caused by the extremely cold weather as well as the clashes. "MDA teams have been on high alert since yesterday (Wednesday) morning, alongside medical IDF teams and the Israeli police. Up to now, MDA has provided preliminary medical treatment and evacuated 57 people to hospitals. Among them were 42 security forces personnel and 15 civilians who suffered hypothermia, chilblains, injuries to limbs, internal injuries, fatigue, dehydration and facial injuries as a result of the use of dangerous materials. The injured were evacuated to Hadassah Mount Scopus (27), Ein Kerem (18) and Shaarei Zedek (12) hospitals."
The Supreme Court struck down the agreement between the government and the residents of Amona Wednesday night, under which the government had pledged to construct alternative housing for the residents on plots on the same mountain. The court ruled that the plots were private Arab land after the leftist NGO Yesh Din filed suit against the plan. The decision left the residents without alternative housing.
Prime Minister Binyamin Netanyahu pledged to build a new community for the residents in Amona in a speech in Ariel today.
"We are going through difficult days. We made every effort not to reach this point but in the end we fulfilled the requirements of the law because we are a law-abiding state. I and you share in the great pain of the families forced to leave their houses and their life's work and we all understand the extent of their pain." the Prime Minister said.
"We have to establish a new community for them on state land. Yesterday I set up a team to locate a place for the community and to begin preparing it. We will act to enable this as soon as possible."