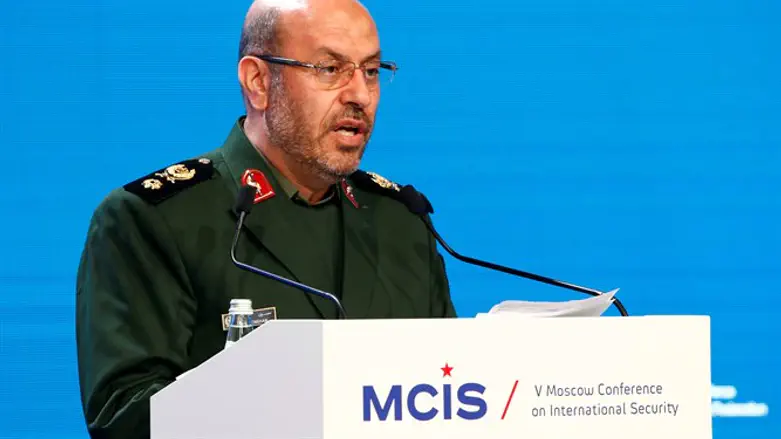 Hossein Dehghan
Reuters
Iran's Defense Minister confirmed on Wednesday that the country had carried out a fresh missile test, but argued the test does not breach the nuclear agreement Iran signed with six world powers.
"The recent test was in line with our [defense] program," Defense Minister Hossein Dehqan said, according to the Tehran Times.
"Our missile tests do not conflict with the nuclear deal or Resolution 2231," he insisted, referring to the UN resolution which bars Iran from conducting ballistic missile tests for eight years and which went into effect on July 20, 2015, days after Iran and six world powers agreed to the landmark nuclear deal in Vienna.
Dehqan also stressed that Tehran will press ahead with its missile program.
The Iranian minister's comments come two days after Fox News revealed that the Islamic Republic conducted a ballistic missile test on Sunday at a well-known test site outside the city of Semnan, approximately 140 miles east of Tehran.
On Tuesday, officials told Fox News that in early December, Iran had conducted a secret missile launch, in which it fired a Shahab-3, an intermediate-range ballistic missile capable of flying 800 miles.
Since the signing of the nuclear agreement, Iran has several times tested ballistic missiles in violation of the deal, prompting condemnations from the Security Council.
On Monday, after Sunday's test was revealed, Senator Bob Corker (R-TN), chairman of the Senate Foreign Relations Committee, vowed to hold Iran accountable.
"No longer will Iran be given a pass for its repeated ballistic missile violations, continued support of terrorism, human rights abuses and other hostile activities that threaten international peace and security," he said.
"I look forward to working with my colleagues and the administration to hold Iran accountable for this and other violations while ensuring radical enforcement of existing restrictions on its nuclear program," added Corker.
Meanwhile on Wednesday, President Donald Trump's National Security Adviser, Michael Flynn, said the United States was putting Iran "on notice" following the ballistic missile test, accusing the Islamic Republic of "destabilizing activity" and of violating the Security Council resolution.
Despite Flynn's comments, however, a Pentagon spokesman later told Reuters that the United States military has not changed its posture in response to the Iran test.