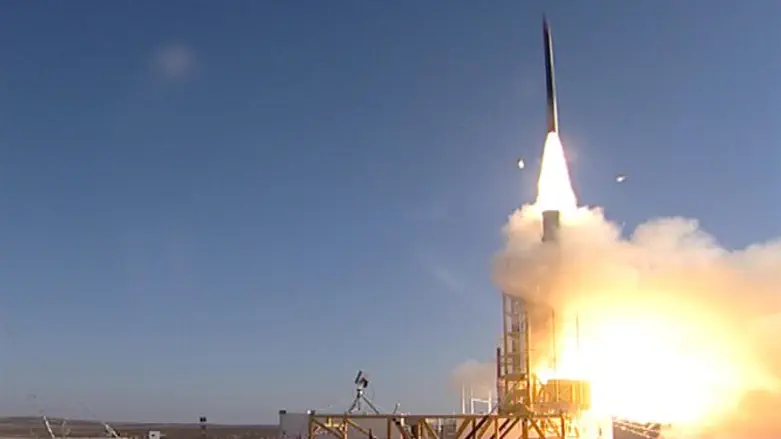 Magic Wand
Defense Ministry
The Defense Ministry's Center for Research and Development of Weapons, together with the American Anti-Missile Agency successfully completed a series of tests of the new advanced version of the David's Sling missile defense system, formerly known as "Magic Wand."
The tests of the system meant to protect Israel from future threats, were organized by the Rafael Missile Defense systems company and took place in the center of the country.
The operational capabilities of an advanced version of the "Magic Wand" missile defense system were examined as well as other capabilities in a number of scenarios which simulated future threats with which the system may have to deal.
After the target missile was fired, the radar detector found it, transferred its information to the firing control center which determined which weapon to use against it. The David's Sling countermissile was launched successfully, performed properly in flight, and destroyed the target missile as planned.
The "David's Sling" is designed to provide an extra level of defense against medium range and short range rockets and missiles, as well as providing additional opportunities to intercept beyond those of the Arrow, thus creating a more comprehensive anti-missile defense system for the State of Israel.
The success of the test series is an important step towards Israel's attaining operational capability to defend itself against missile threats in the region.
A senior member of the Defense Ministry revealed that the experiment included all the missile defense systems and was on a country-wide level.
The American company Raytheon is the main contractor developing the Magic Wand together with Rafael. The radar system is developed by Elta- a subdivision of the Israel Aircraft Industries(IAI). The control and supervision system "Golden Almond" is developed by the Elisra subdivision of Elbit Systems.