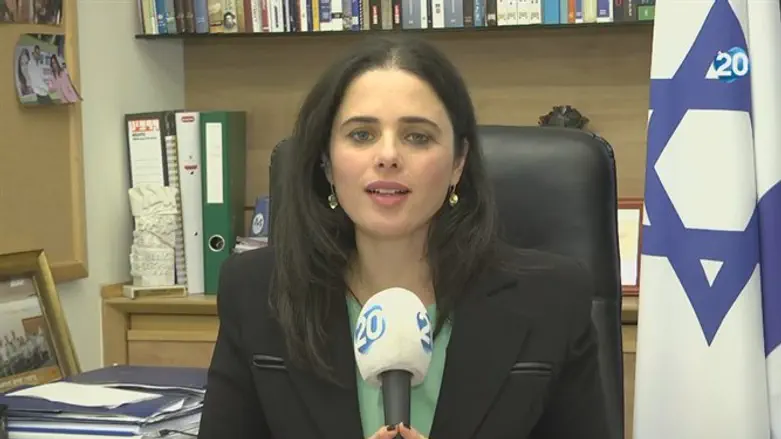 Ayelet Shaked
Channel 20
Justice Minister Ayelet Shaked blamed incitement from Arab politicians and leftist organizations in Israel for the Negev terrorist ramming attack Wednesday morning.
One police officer was killed during the ramming attack.
Speaking in an interview broadcast Wednesday evening, Shaked said: "These [attacks] are very difficult cases which are mainly the result of the incitement of Arab MKs and extreme leftist groups who entered the picture in the last few days."
She said the demolition was carried out after long negotiations between the state and the residents. "You should know that the residents were in negotiations with the state for several years despite the court order [that the structures be demolished]."
She added that the affected families were to be given extensive compensation and were offered alternate housing.
"In recent days [there has been] agitation and incitement by Arab Knesset Members and by extreme leftist organizations who [took advantage] of the event and caused this radicalization. This was a very difficult occurrence. There was terrible violence committed against the police by citizens of the State of Israel. You have to realize that it was citizens who demonstrated so violently against the police, and unfortunately, one policeman was killed."
She accused Joint List Chairman Ayman Odeh and other Arab MKs of the incitement which led to Wednesday's attack. "There are Arab Knesset Members who work for their public and do a good job in the Knesset, and some, unfortunately such as the chairman of their party, Ayman Odeh, who who lie and incite [against Israel]. Instead of reassuring his constituents and trying to support coexistence, he does just the opposite."
"We have nothing to do with it. It is the Arab public which, unfortunately, chose him...I can only hope that in the next Knesset much better MKs will be elected, MKs that truly care for their constituents, because there are plenty of things to [legitimately] worry about." she concluded.
The full interview will air at 11:00 PM Israeli time tonight.