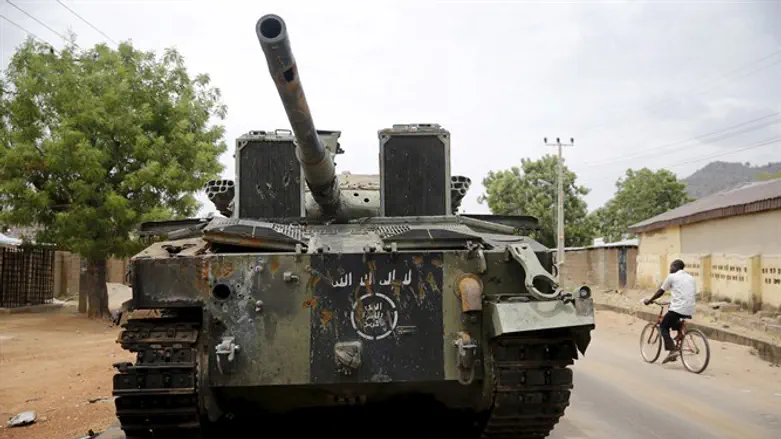 Boko Haram tank captured by Nigerian forces
Reuters
A fighter jet from the Nigerian air force on a mission against the Boko Haram terrorist organization mistakenly bombed a refugee camp, killing approximately 100 people and wounding hundreds more, the AP reported.
An official from the north-eastern Nigerian State of Borno, who was helping to coordinate the evacuation of the wounded by helicopter, spoke to the AP under anonymity about the incident.
A Red Cross worker corroborated the story, and said that 20 volunteers from the International Committee of the Red Cross (ICRC) were among the dead from the airstrike.
A Nigerian military official, Military commander Maj. Gen. Lucky Irabor, confirmed that an accidental airstrike took place near Nigeria's border with neighboring the neighboring State of Cameroon.
Irabor admitted that he ordered the mission against Boko Haram based on intelligence that insurgents from the terrorist organization were gathering together. He said that it was too early to say if the airstrike was the result of a tactical error, but that the Nigerian air force does not deliberately target civilians and an investigation will be launched into how the incident occurred.
The medical NGO Doctors Without Borders reported that it had seen at least 50 bodies and treated 120 wounded people, including a number of Nigerians who volunteered to work with the organization.
"Our medical and surgical teams in Cameroon and Chad are ready to treat wounded patients. We are in close contact with our teams, who are in shock following the event." Doctors Without Borders said.
There have been previous reports of civilian casualties caused by Nigerian airstrikes in the African country's battle against Boko Haram. However, this is the first time the Nigerian air force has made a mistake of this magnitude.