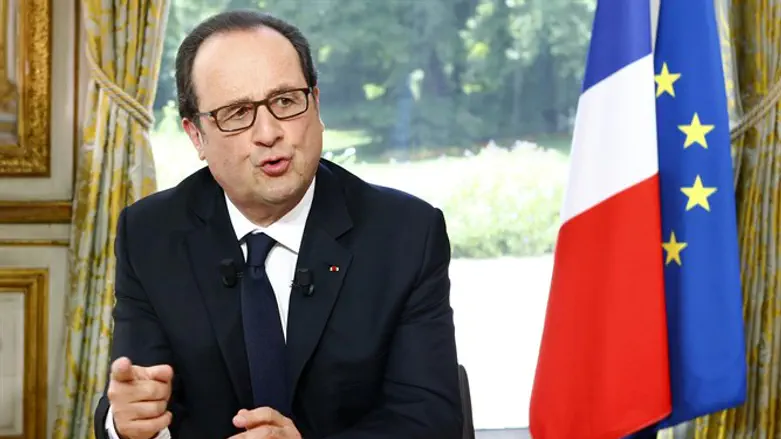 Francois Hollande
Reuters
At the Paris peace conference on Sunday French President Francois Hollande said the world cannot impose a solution to the Israeli-Palestinian conflict and true peace can only be achieved through direct negotiations.
At the same time, Hollande told the international community not to give up on peace, since the world can not be victorious over ISIS without first resolving the "oldest conflict in the Middle East." Even the Iraqi and Syrian wars cannot come to an end without Israel agreeing to a two-state solution, in his opinion.
"But how can you think that the Middle East can be stabilized if you don't deal with its oldest conflict? The world must not resign itself to the status quo," Hollande said. "The two-state solution is still the goal of the international community for the future.
"With this conference I wanted to inscribe the two-state solution on the international agenda. We do not want to impose any solutions… as some argued to dismiss our effort. It can only come after direct negotiations.
"Only direct talks between Israelis and Palestinians can lead to peace. (…) It is reasonable, it is necessary that the international community seriously thinks about the best way possible to guide the two-state solution. And I confirm that this solution is the only one possible for peace and security."
Hollande also said the two-state solution is "threatened" both by towns in Judea and Samaria and terrorism, and noted over 150 Israeli and Arab organizations have begun to work together thanks to "peace initiatives."
Warning that the two-state solution is "threatened" by settlements, a dwindling peace camp, and terrorism, the French president emphasized that the goal of the conference was to reaffirm the global commitment to peace rather than impose a deal.
France has provided continuous support to the Palestinian Authority. In 2015, France provided $43 million in aid, and to this day, the Palestinian Authority and Hamas remain the primary beneficiaries of French foreign aid.