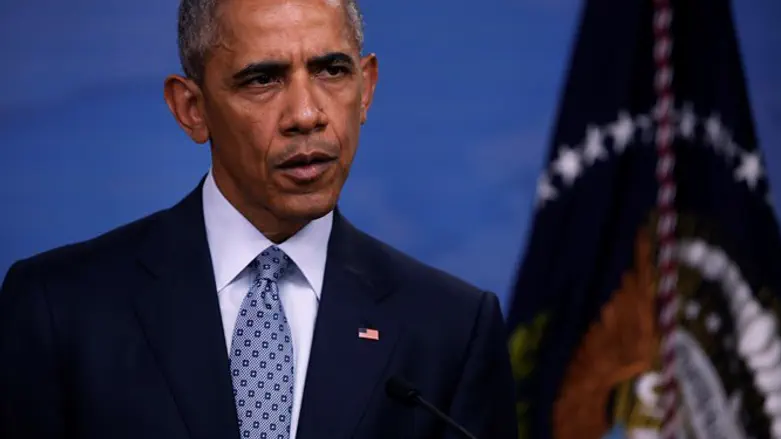 Barack Obama
Reuters
Outgoing U.S. President Barack Obama insisted on Sunday that his abstention in last month's vote on an anti-Israel United Nations resolution did not trigger a significant crisis in relations with Israel.
Speaking with CBS's "60 Minutes" in a final interview before he leaves office on Friday, Obama confirmed that "ultimately" it was his decision to abstain in the vote on UN Resolution 2334.
He then stressed, however, "I don't think [the abstention] caused a major rupture in relations between the United States and Israel. If you're saying that Prime Minister [Binyamin] Netanyahu got fired up, he's been fired up repeatedly during the course of my presidency, around the Iran deal and around our consistent objection to settlements. So that part of it wasn't new."
Obama further said that "despite all the noise and hullabaloo-- military cooperation, intelligence cooperation, all of that has continued. We have defended them consistently in every imaginable way."
At the same time, the President said he believed "that both for our national interests and Israel's national interests that allowing an ongoing conflict between Israelis and Palestinians that could get worse and worse over time is a problem. And that settlements contribute. They're not the sole reason for it, but they're a contributing factor to the inability to solve that problem."
He warned that "[w]e are reaching a tipping where the pace of settlements, during the course of my presidency has gotten so substantial that it's getting harder and harder to imagine an effective, contiguous Palestinian state. And I think it would have long-term consequences for peace and security in the region."
Following the vote in the Security Council last month, Israeli officials criticized Obama for choosing to abstain and allowing the resolution to pass.
Israel's Ambassador to the United States, Ron Dermer, told CNN that Israel has proof that Obama's administration was behind the resolution.
"We will present this evidence to the new administration through the appropriate channels. If they want to share it with the American people they are welcome to do it," said Dermer.
Obama's close adviser, Ben Rhodes, later fired back, telling Channel 2 that it was Israel who was to blame for the resolution being put to a vote.
Obama refuted the allegations in an interview with Israeli journalist Ilana Dayan last week, in which he insisted that he had been a friend to Israel but Netanyahu had refused to recognize that fact.
The outgoing President told Dayan that allegations against his administration "may work well with deflecting attention from the problem of settlements, they may play well with Bibi's political base, as well as the Republican base here in the United States, but they don't match up with the facts."