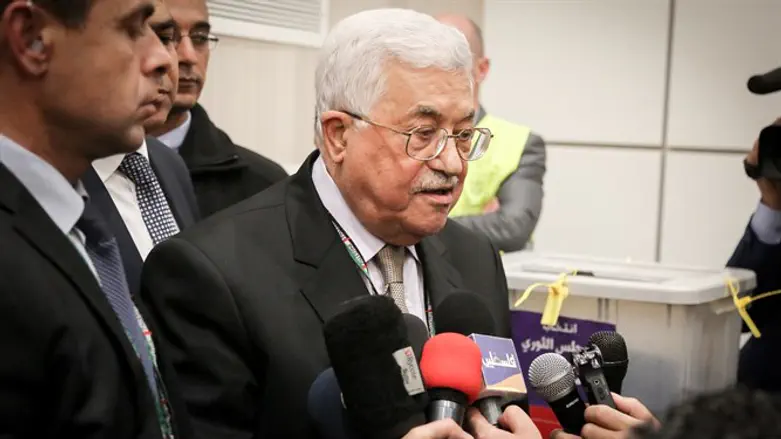 Mahmoud Abbas
Flash 90
Palestinian Authority (PA) chairman Mahmoud Abbas welcomed on Sunday the statement summarizing the Paris peace conference, in which representatives from 72 countries gathered to discuss the Israel-PA peace process.
The statement called on both sides to adopt the "two-state solution" on the basis of the pre-1967 borders, which essentially means the uprooting of Israeli communities in Judea and Samaria.
The countries represented at the conference decided to adopt UN Resolution 2334 which condemned Israeli communities in Judea, Samaria and eastern Jerusalem. It was also decided that another meeting on Israel-PA peace will be convened by the end of 2017.
Following the statement, Abbas said that there were "positive elements" in it, such as the fact that it confirmed the international authority for a solution to the conflict, including international law, as well as the fact that it expressed opposition to Israeli "settlements" and policy that determines facts on the ground, including in Jerusalem.
Abbas stressed the importance of implementing UN Security Council Resolution 2334 and the statement of the Paris conference in order to force the "Israeli occupation authorities" to "cease settlement activity, including in Jerusalem, implement written agreements and stop thwarting the two-state solution."
In addition, Abbas called on all countries to recognize the "State of Palestine".
Earlier on Sunday, U.S. Secretary of State John Kerry said that the American delegation at the Paris summit worked to protect Israel from "unfair" treatment.
"We came in here and where we thought it was unbalanced and where we thought it was not expressing the kind of unity that I talked about, we fought to address it," he said.
"We didn't soften it. We did what was necessary to have a balanced resolution. And if you look at it, it speaks in positive ways, rather than negative, to both sides."
The Secretary of State also said that he had contacted Prime Minister Binyamin Netanyahu during the summit to reassure him that no one-sided action would be taken by the conference vis-à-vis Israel.
Netanyahu spoke out against the conference on Sunday morning, describing it as "a worthless and empty conference. Its only purpose is to attempt to force Israel to agree to conditions which do not aid Israel's national interests.
"This conference also harms the chance for peace, since it strengthens the Palestinians' refusal to negotiate and allows them to ignore the need for compromise without preconditions," he added.