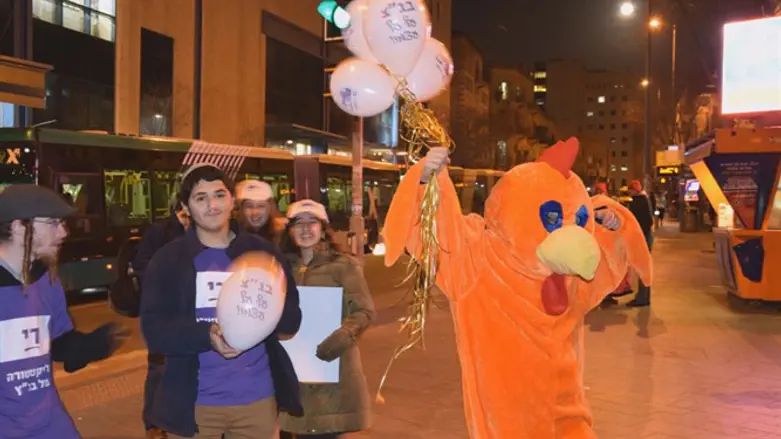 giving out balloons
Derech Chaim
Activists from the 'Derech Chaim' (Way of Life) movement continued to campaign against the conduct of the Supreme Court with a protest in Jerusalem last Thursday.
About 20 activists arrived at Jerusalem's Central Bus Station and began giving out hundreds of helium balloons to passersby. The balloons were emblazoned with the phrase "The Supreme Court flies by itself" and a picture of a judge.
According to the activists, the majority of the passersby identified with their criticism of the court and were happy to receive the balloons.
The activists also handed out informational materials and stickers which read: "Supreme Court: Ego, ego shall you pursue?" and "Stop the dictatorship of the Supreme Court."
"Recent published surveys show once again that there is a growing distrust of the Supreme Court among the Israeli public." said Uri Kirshenbaum, the director of Derech Chaim.
"As long as the Supreme Court appropriates powers it is not entitled to...it is only natural that the judges feel that they are above the nation. 'A closed family,' as retired judge [Aharon] Barak told us. And they can decide for us what is right and what is immoral. We believe that it is time to take care of this problem from the root and restore the public's powers usurped the court, or else the Supreme Court's inflated balloon (ego) will continue to hover over us." Kirshenbaum said.