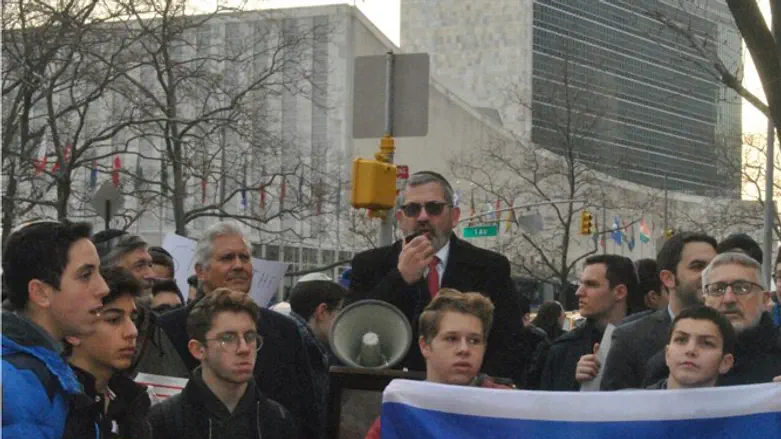 Rabbi Zeev Firedman speaks at pro-Israel rally
PR
Hundreds of people from the New York Jewish community gathered outside the headquarters of the United Nations in New York on Wednesday in the cold to protest the latest anti-Israel resolutions which have been passed by the organization recently, including Security Council Resolution 2334, which declared all Jewish presence over the 1949 armistice lines to be illegal.
The demonstration was organized by Rabbi Zeev Friedman and Rabbi Yotav Eliach, the Rosh Yeshiva and principal, respectively,of the Rambam yeshiva high school in Lawrence, New York.
Demonstrators protested the UN's obsession with and bias against Israel, and will call on Congress to cut US funding to the UN. The US funds about 22% of the UN budget.
Three months ago, the UNESCO world heritage organization passed a resolution denying any Jewish connection to Jerusalem or the holy sites within, such as the Western Wall and the Temple Mount. The sites were referred to only in their Arabic names.