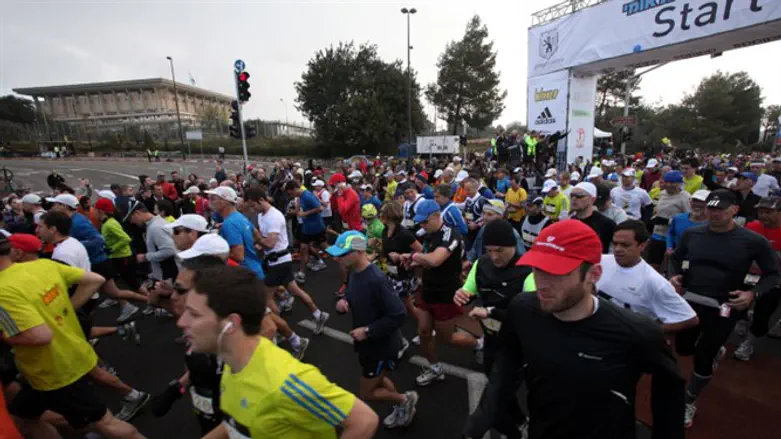 1st Jerusalem Marathon
Yossi Zamir/Flash 90
With the seventh annual Jerusalem International Marathon just over two months away, a record number of runners around the world are in training, with more than 1,200 runners – more than twice as many than at this stage last year – already registered. They will arrive in Israel from over 40 countries, in addition to the thousands of Israelis already signed up to take part. The event will include a Full Marathon, Half Marathon, 10km and a number of shorter family and fun runs.
In addition, runners who register are being offered a little extra help in training for the breathtaking Jerusalem Marathon course, which not only allows runners to take in the tremendous sights of the modern and old neighborhoods of the city, but tests their stamina with its steep inclines and hills. This year, runners who register before February 1, 2017 (February 9, 2017 in Israel) will receive a MilestonePod.
The MilestonePod is a small, easy-to-use device that clips onto the runner's shoe. It automatically tracks running metrics such as foot strikes, cadence and rate of impact and also provides performance data, including time, pace, distance and calories burned. There are no buttons, no re-charging needed and no GPS signal, but the device syncs quickly to the MilestonePod App, which is downloadable onto a smartphone or tablet.
Runners competing in the Full and Half Marathon will receive a MilestonePod for free, while those registered for the 10k or 5k will have the opportunity to purchase the Pod at a reduced rate.
The Marathon is an important event for tourism to the city with more than an estimated 10,000 extra hotel nights booked in the city around the event. In 2016, nearly 30,000 participated in the marathon with 2,600 runners coming from 65 countries around the world. The marathon began in 2011 with just 10,000 participants.
The men's record for the full marathon was set in 2014 and is held by Ronald Kimeli Kurgat of Kenya (2:16:09), and the women's record was set in 2016 and is held by Joan Jepchirchir Kigen of Kenya (2:38:30).
The start line is situated at Israel's parliament, the Knesset, and runners in the Full Marathon will then loop around the Givat Ram campus of the Hebrew University, pass alongside the Valley of the Cross, and through various neighborhoods on their way up to Hebrew University's Mount Scopus campus. The route then descends to the historic Old City, taking runners through Jaffa Gate and the Armenian Quarter and out Zion Gate, on their way to the Jerusalem Forest. The race's finishing point is in Sacher Park.