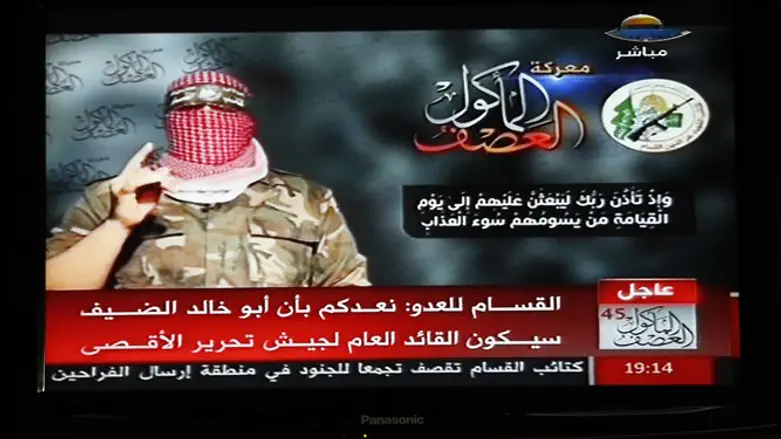 Hamas terrorist in propaganda video
Reuters
Hamas on Saturday blasted Facebook's administration after the social media giant blocked dozens of accounts and pages supporting the movement, the Ma'an news agency reports.
Facebook's crackdown on Hamas-affiliated pages followed the launch of a social media campaign by the group promoting the actions of archterrorist Yahya Ayyash.
Ayyash, nicknamed The Engineer, was a Hamas terrorist who built the bombs used in a number of the group's suicide attacks which killed dozens of Israelis in the 1990s.
Israel eliminated Ayyash in January of 1996 using an explosive laden cellular phone.
Husam Badran, a Hamas spokesman, said on Saturday in a statement quoted by Ma'an that Facebook had closed more than 90 pages supporting Hamas, in addition to 30 personal accounts affiliated with the movement.
"This vicious campaign came after the launching of the 21st anniversary of the assassination of the first engineer of the Izz ad-Din Al-Qassam Brigades (Hamas' armed wing), Yahya Ayyash," Badran said in the statement.
As part of the anniversary, Hamas supporters launched a campaign promoting the actions of Ayyash, and adopted the slogan "Be Like Ayyash," prompting Facebook to shut down more than a hundred pages and accounts, according to Ma'an.
Badran described the closure of Hamas' support pages as a "persistent collusion of the Facebook administration with Israeli occupation policies," and urged Palestinian Facebook users to look for other, more efficient, alternatives.
Facebook, as well as other social media websites, have in recent months cracked down on Hamas-affiliated pages. In April, Hamas expressed anger after Facebook and Twitter shut down multiple accounts linked with the Al-Qassam Brigades.
Both social media giants, together with Google, have been facing a concerted campaign by Jewish and pro-Israel activists, to take action against anti-Semitic incitement. Activists and terror victims' rights campaigners allege the companies are turning a blind eye to the torrent of hate which helps inspire deadly terrorism in Israel.
Facebook is even facing a lawsuit for allegedly allowing terrorists to coordinate attacks via its platform.