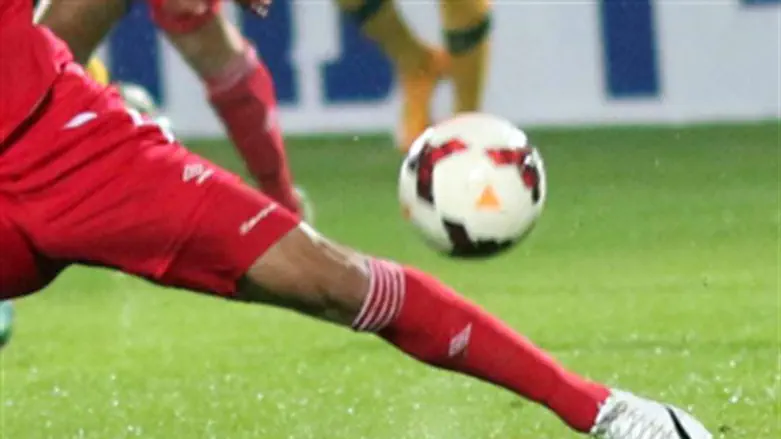 Soccer (illustration)
Flash 90
Human Rights Watch (HRW) on Thursday urged FIFA to take action against Israeli soccer clubs based in Judea and Samaria following last week's UN resolution condemning "settlements".
HRW said the resolution increases pressure on world soccer's governing body ahead of a meeting of its leadership next month.
"The UN resolution makes it much more difficult for FIFA to pretend that allowing Israel to hold games in the settlements is neutral or acceptable," Sari Bashi, HRW's Israel advocacy director, told AFP.
"The resolution clearly says that the settlements have no validity," she added, meaning states and bodies like FIFA "should distinguish between Israel and the occupied territory."
HRW has been at the forefront of efforts to convince FIFA to expel the six clubs in Judea and Samaria, efforts spearheaded by the Palestine Football Association (PFA) and its head, Jibril Rajoub.
The group several months ago called on FIFA to quit sponsoring Israeli matches in Judea and Samaria, claiming they are being held on "stolen land".
FIFA had been due to rule on the future of the six clubs in October but instead delayed its decision until the next meeting, due to take place January 9-10.
Both the Israeli and Palestinian associations are members of FIFA and the body's governing rules prevent matches being played on another association's territory without permission.
Bashi pointed out that FIFA officials had previously referred to Judea and Samaria as "disputed" but said the Security Council resolution clearly calls the region occupied.
"This resolution makes it harder for FIFA to continue pretending it is avoiding politics by allowing the settlement clubs to continue playing," she told AFP.
Last year, Rajoub campaigned to have Israel suspended from FIFA because, he claimed, Israel was restricting the movement of Palestinian Arab players.
However, he withdrew the bid at the 11th hour, sparking anger among Palestinian Arabs, some of whom demanded Rajoub's resignation.