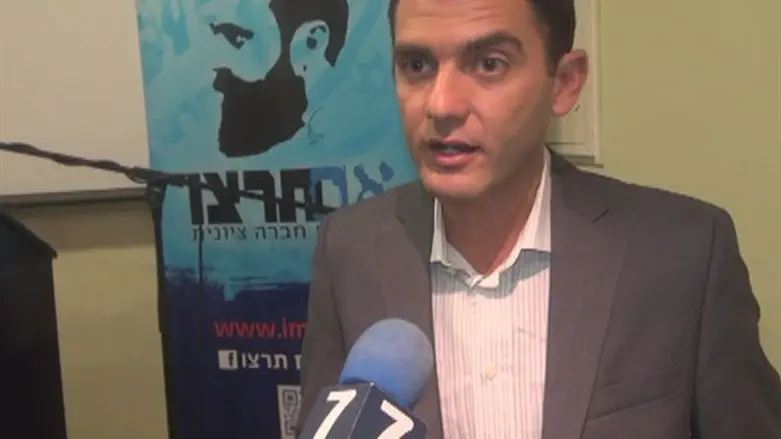 Im Tirtzu CEO Matan Peleg
Yoni Kempinski
Matan Peleg, CEO of the "Im Tirzu" movement, appealed on Sunday to Avraham Duvdevani, chairman of the World Zionist Organization to prevent the appointment of left-wing activist Uri Zaki, as the Activities Director of the organization.
Zaki was the former Executive Director of B'Tselem USA. He is the Chairman of the 'Young Meretz' Party and is an adviser to the architect of the Oslo Accords, Yossi Beilin.
In his letter to Duvdevani, Peleg wrote "In these days in which the Jewish People celebrate Hanukkah, and recite the blessing 'In those days as in these times,' it is worth recalling that the Maccabean revolt broke out against the backdrop of sanctions imposed on the Jewish people by a foreign ruler - Antiochus, that were encouraged by a small elite minority who were then called "Hellenists.'"
"We must insist that at this time, as in the days of old, the Jewish people condemn every attempt by the nations of the world to impose sanctions on the Zionist nation and every foreign imposition on the freedom of the people of Israel."
Peleg added that "the WZO can not have as a director a man who served as CEO of B'Tselem USA, an organization that has deliberately and explicitly encouraged sanctions against Israel in international institutions."
Peleg asked Duvdevani to cancel the planned appointment of Zaki. He said: "We demand that you not confirm the appointment of Mr. Zaki before he declares, publicly, in writing and on video, that he strongly opposes the policy of B'Tselem whose head, Hagai Elad, just recently at the United Nations, called for international intervention against Israel."