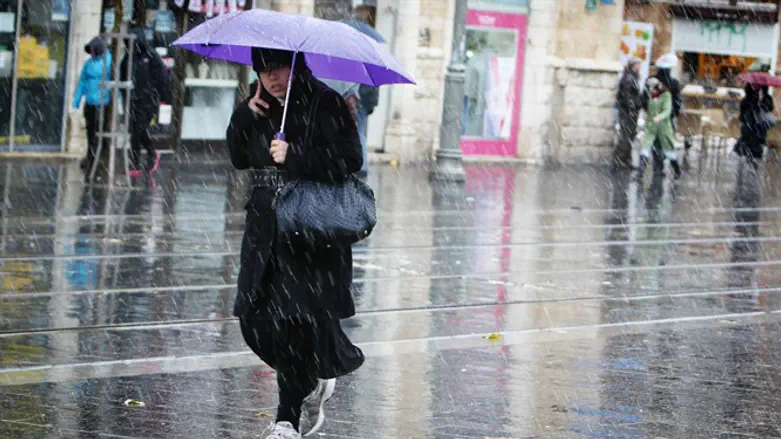 Rain in Jerusalem
Flash 90
After a rainy weekend, Israel is preparing for more winter storms over Hanukkah.
Rain is expected to fall on Sunday in northern and central Israel, and will be accompanied by isolated thunderstorms. There may also be local rain storms in southern Israel.
As is often the case, this may cause floods in the coastal plain, as well as in the Judean Desert streams and near the Dead Sea.
Snow is expected to fall in the Hermon. There may be strong winds, and the south may experience dust storms. Temperatures are expected to be colder than usual.
On Monday, rain is expected to fall in northern Israel and along the coast. There will be isolated thunderstorms, as well as strong winds. Snow will continue to fall in the Hermon and in the northern Golan Heights, and there may be floods in the Judean Desert streams and near the Dead Sea. Temperatures will continue to be especially low.
Tuesday's weather will be much the same, with strong winds and occasional rains from the north of Israel to the northern Negev. Similar to Sunday and Monday, there will be snow and flood warnings in the relevant areas, and temperatures will be lower than usual.
Wednesday is expected to be partly cloudy with slightly higher temperatures and a chance of rain. However, temperatures are still expected to be lower than average.