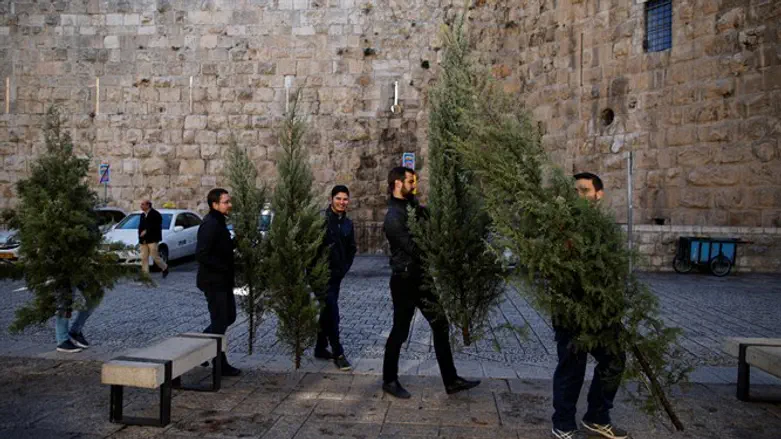 Christmas trees distributed in Jerusalem
Reuters
Jerusalem Deputy Mayor Dov Kalmanovitz, head of the Jewish Home municipal faction, said that he is not against giving out Christmas trees to Old City Christians.
In an Arutz Sheva interview he also referred to the rabbinic prohibition on placing Christmas trees in hotels. "I am too insignificant to express my opinion on matters of religious law. There are rabbis in Jerusalem and a Religious Council and we accede to their rulings and eat the food they have supervised. They decide the conditions for kosher food and the matter of Christmas trees is also under their authority."
"I rely on the rabbis of Jerusalem and whatever they say and state is the words of sages whose authority we must accept," said Kalmanovitz.
However, as far as private residents are concerned, that is another matter. He believes that just as the city provides sukkah branches to cover Jew's sukkahs it can also provide Christmas trees for gentiles in the city.
Kalmanovitz emphasized that he did not plan to go to Christian ceremonies even though he was invited to many of them. "As a proud Jew I do not take part in idolatrous events and I will not attend any ceremony. I was even invited to a reception for the Pope and I didn't come. I ask my rabbis and they tell me how to act."
"However I have no problem with giving out Christmas trees to private individuals. The Jerusalem churches owe millions of shekels in municipal rates but that should not harm the few individuals who want a Christmas tree."
The Tourism Ministry stated that "the decision to place Christmas trees in hotels where Christian tourists are visiting in honor of Christmas and the new year is in the hands of each individual hotel in accordance with the type of guests frequenting it. Even in non-Christian countries including the Persian Gulf states it is the custom to place a Christmas tree in hotels where Christians are residing. We welcome the thousands of pilgrims who will be arriving in Israel at this time."