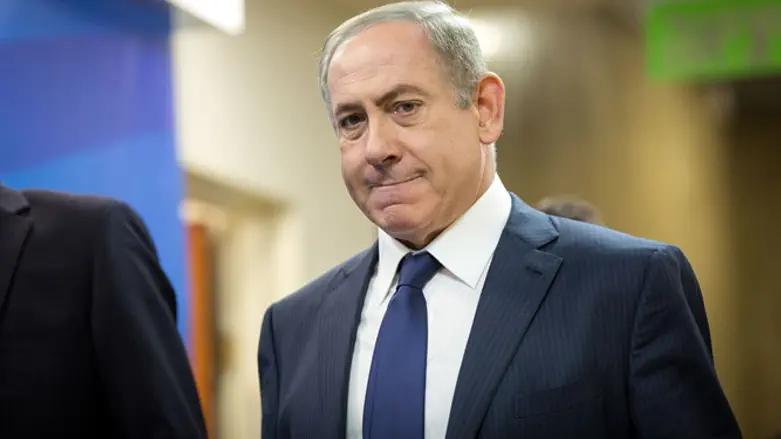 PM Netanyahu
Emil Salman/POOL Flash 90
Prime Minister Binyamin Netanyahu on Tuesday addressed reporters on a wide variety of subjects at the annual new year's event he holds with the foreign press.
The Prime Minister called on Western countries to unite against Islamist terrorism. "We can defeat it if the whole world will join forces to wage a joint war on terror wherever it is."
He stated that Jewish communities in Judea and Samaria are not an obstacle to peace. "I don't understand why Jews can't live in Judea and Samaria under any conditions."
He said that Israel would not return to the 1949 Armistice Lines, adding that the Arabs consider all of Israel occupied territory anyway, including Tel Aviv and Haifa.
Netanyahu said that he had spoken with Palestinian Authority (PA) chairman Mahmoud Abbas dozens of times and repeatedly called for negotiations without preconditions, but he said Abbas is "betting on the idea of an international dictate."
Netanyahu said that he looked forward to working with US President-elect Donald Trump and spoke of his recent visits to two Muslim countries, Azerbaijan and Kazakhstan. He added that Israel's relationship with the international community is changing for the better. "There is a revolution in the attitude of many countries in the world towards us."
He also addressed the humanitarian crisis in Syria and spoke of steps Israel could take to help Syrian civilians, such as treating wounded civilians from Aleppo.
"We see the tragedy, the terrible suffering of civilians, and I've asked the Foreign Ministry to seek ways to expand our medical assistance to the civilian casualties of the Syrian tragedy, specifically in Aleppo where we're prepared to take in wounded women and children and also men if they're not combatants. We'd like to do that, bring them to Israel, take care of them in our hospitals, as we've done with thousands of Syrian civilians. We're looking into the ways of doing this, it's being explored as we speak."