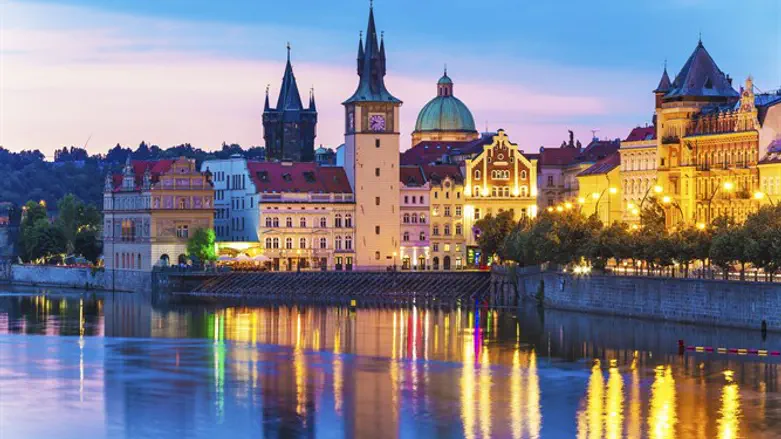 Prague
iStock
The company operating Prague's subway is investigating a complaint alleging one of its employees threatened to "cut off the head" of a Jewish passenger wearing a kippah.
The incident was reported last week by a member of Prague's Beit Simcha Reform Community, Petr Papousek, president of the Federation of Jewish Communities in the Czech Republic, told JTA Tuesday.
The Prague Public Transit Company, he said, "is taking the complaint very seriously, and is investigating the details of the incident in order to draw conclusions on the behavior of the employee in question," Papousek said. He did not identify the complainant, who requested anonymity.
A man wearing the transit company's uniform earlier this month harassed the alleged victim in the presence of witnesses aboard the B line, which runs through the Czech capital and its Old Town, the Jewish news website ZTIS reported. According to the account, the uniformed man told the Jewish passenger: "When we meet next time, Jews, it'll be to cut off your head."
None of the other passengers intervened, according to the report. The alleged victim took a picture of the man who he said threatened him. It shows a man with a shaved head facing away from the camera while putting on a black coat over the company's blue uniform. He is wearing black boots.
Papousek said he had no reason to doubt the veracity of the report, but added that "it is a rare and unusual incident in Prague, which is safer for Jews than many other European cities, including Budapest."
The complainant further said that another employee of the same company advised him not to wear a kippah while taking the subway because it invites attack. But the firm denies this.
In a statement published last week, the transport company promised to punish the man accused of threatening the Jewish passenger if the alleged perpetrator turns out to be an employee of the company and if the accusation against him checks out.
"If it turns out that the behavior described was by a staff employee of the Prague Public Transit Company, he will face consequences for his actions," the company said. "But we resolutely reject that our employee had recommended a dress code or made any other proposals."