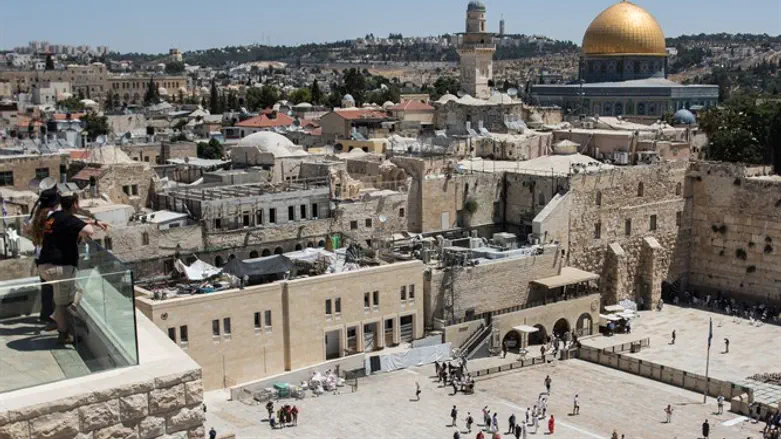 Western Wall
Zack Wajsgras/Flash 90
MK Michael Malkieli (Shas) on Sunday submitted Shas's "Kotel Law" to the Knesset, after its text underwent a series of amendments and adjustments by the Knesset's legal bureau.
The "Kotel Law" is supported by the members of Shas and United Torah Judaism, as well as by some MKs from the Jewish Home and the Likud. MKs Bezalel Smotrich, Motti Yogev and Nissan Slomiansky signed onto the law from the Jewish Home, while MKs Mickey Zohar and Oren Hazan signed onto it from the Likud.
The law would regulate the status of the Kotel (Western Wall), making it a "holy area," subject to the jurisdiction of the Rabbinical Courts and the Chief Rabbinate.
According to the new law's proponents, the judicial status of the Kotel has yet to be clearly regulated by law, and this has led to attempts by various organizations to undermine its halakhic status, causing severe conflicts.
The proposed bill is intended to legally establish the Kotel's halakhic status.
The bill states that "the protection of holy sites was regulated by law in 1981. However, until today, 50 years after the liberation of the Kotel, there is still no specific regulation protecting the special holiness of the Kotel. This proposed law would regulate the arrangement of prayer services in Kotel plaza and preserve the sacred status of the area."
The bill specifies in detail the actions that would be forbidden in the area, including desecration of Shabbat, and it would legally require a partition between men and women.
The bill also aims to protect the dignity of worshippers by prohibiting religious ceremonies which offend local custom and the sensitivities of other worshippers. This would include women reading Torah, blowing shofar, and wearing tallit and tefilin.
The Minister for Religious Affairs would be responsible for the implementation of the law and would be entitled to enact other regulations concerning its implementation.