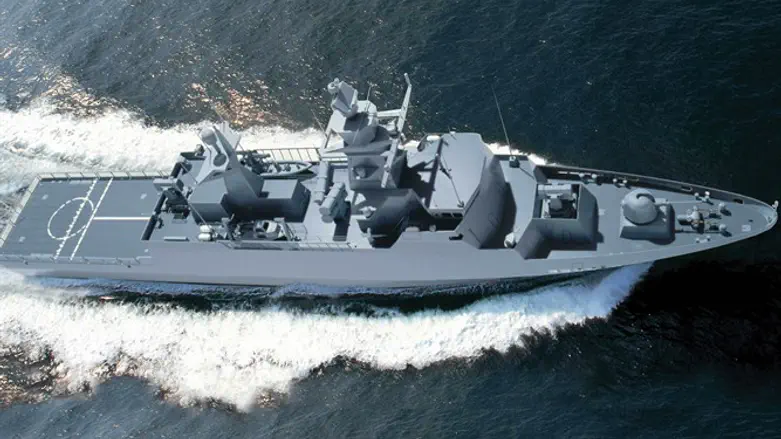 Corvette 130 (computer-generated image)
TKMS
The Defense Ministry on Sunday said that the company, Abu Dhabi MAR, which is building four new corvette-class warships for Israel, does not jeopardize any classified information, since all the combat and internal systems will be installed in Israel.
The ministry was responding to a report in Yedioth Aharonot on Sunday that the German shipyard where the warships are being constructed is operated by the Abu Dhabi-based company.
Abu Dhabi is the capital of the United Arab Emirates (UAE). Israel has no diplomatic ties with the UAE, which prohibits holders of Israeli passports from entering its country.
The warships are due to be delivered to Israel in 2020 and will be defending Israel's coastline and its huge offshore natural gas fields. Israel's huge and mostly untapped gas fields cover some 23,000 square kilometers (9,000 square miles), more than Israel's land territory.
The $463 million deal was signed in 2015 with the German company ThyssenKrupp, which reportedly subcontracted the work to German Naval Yards Kiel, purchased by Abu Dhabi MAR in 2011.
Thirty percent of Abu Dhabi MAR is owned by the Lebanese Maronite businessman, Iskandar Safa, who played a role more than 25 years ago in the search for Israeli navigator Ron Arad. Safa had helped free the French journalist, Roger Auque, in 1988, from the Hezbollah in Lebanon. According to his autobiography, Auque introduced Safa to a Mossad agent who met with Safa and asked for his help in the search for Ron Arad.
Arad was shot down in Lebanon in 1986, captured by the Amal militia and turned over to Hezbollah. An October 2016 news report revealed that a joint investigation carried out by Mossad and IDF Military Intelligence concluded that Arad had died in 1988, although his body has never been recovered.