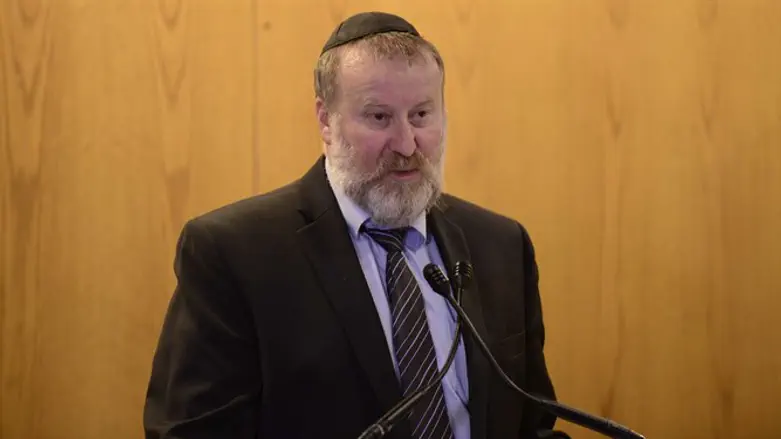 Attorney General Avichai Mandelblit
Tomer Neuberg/Flash 90
Precedent-setting: Attorney-General Avichai Mandelblit, an observant Jew fresh off a clash with much of the religious-Zionist public based on his stance regarding the Regulation Bill and Amona, has opened a new front with that public.
After months of deliberation, he decided today that Rabbi Yoseph Elitzur, a senior teacher in Yeshivat Od Yosef Chai in Yitzhar, near Shechem, should in principle be charged with incitement to violence. Rabbi Elitzur will be granted a hearing during which he will be entitled to defend his position and explain why he should not be charged; a final decision will then be made.
The charges are not related to the five-year-old book that Rabbi Elitzur co-authored with Rabbi Yitzchak Shapira entitled "Torat HaMelekh". The two authors were close to being charged with incitement because they wrote there that it is permitted to kill enemy Gentiles during war. A year ago, the Supreme Court turned down a final appeal against the decision not to charge them.
The present charges, however, deal with columns written by Rabbi Elitzur in May 2013, shortly after the terrorist murder of Evyatar Borovsky – father of five – at the Tapuach Junction. Rabbi Elitzur wrote, "There exists an increasingly widespread phenomenon of actions taken by [warm-hearted] Jews against the enemy. These acts can be viewed as desperate actions taken by a sector that has been pushed into a corner, but whoever comes close will note that these are the harbingers of a growing population sector that takes responsibility for Jewish security."
He also wrote, "After the murder of the holy Evyatar Borovsky, actions were taken throughout the country, aimed chiefly against the Arab crime-covering public … A public sector is being formed that has a different vision – a vision of Jewish rule… These acts do not stem from despair; they are the early signs of 'raising the head' of a new public. In these actions, smart and alert Jews are beginning to find expression, those who understand that Judaism is chiefly our existence here. They are the first signs of Jewish trust, mutual responsibility, and concern for Jews throughout the Land of Israel and the entire world."
A month after Borovsky's murder, Rabbi Elitzur further wrote: "Those who [have the] need to 'contain' the Arab murders and abandon IDF soldiers to daily trampling – they simply are unable to believe that the Jewish side has no choice but to rise up. They are unable to understand that when they forgive the violence of the foreigners and trample upon the Jewish public – this leads to the forming of a public sector that understands that it must take action to protect against the evil that threatens the Jews in the Land of Israel. Only a few carry them out, but increasingly more others understand them, and feel that it is good that there are still people with a warm heart that burns against evil and injustice…"