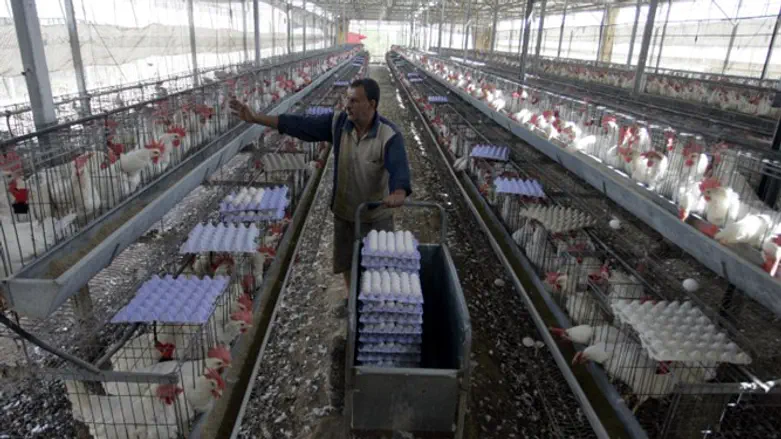 Chicken Farm
Photo: Flash 90
A strain of bird flu, also known as avian influenza, was discovered Monday at Moshav Be'er Tuvia and Kibbutz Revadim, just East of Ashdod.
At the same time, teams from the Agriculture and Rural Development Ministry have been working since yesterday at the henhouse in Kibbutz Ein Tzurim in Gush Etzion to eradicate the flu that was discovered there. Ministry inspectors continue actively monitor the area.
As part of the monitoring, samples have been taken from chicken coops within a radius of 10 kilometers from the affected farm.
The Ministry is also encouraging those who raise poultry or ornamental birds in the area to keep the birds inside for now to reduce the risk of infection from wild birds.
The Veterinary Institute is reporting that the subspecies of virus in the recent outbreak is identical to the subspecies that was discovered recently in several European countries. It was spotted in Israel for the first time two weeks ago at Kibbutz Heftsiba, in the North, between Afula and Beit She'an.
The finding reinforces the theory that migrating birds passing over Israel at this time from Eastern Europe and Asia are responsible for bringing the disease to Israel.
Agriculture Ministry officials have emphasized that it is safe to continue consuming poultry and eggs, but are encouraging people to only buy eggs that are sold in completely enclosed cartons or plastic and to consume them only after proper cooking.