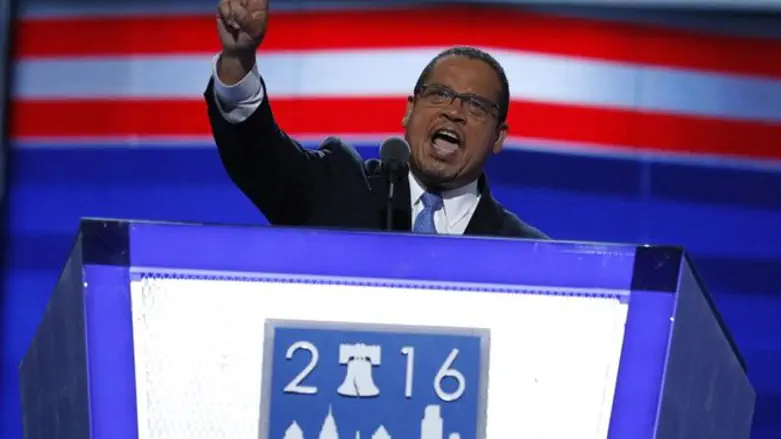 Keith Ellison
Reuters
JTA - Rep. Keith Ellison, a candidate to head the Democratic National Committee, said an audio recording in which he said American foreign policy bows to Israeli interests was "taken out of context."
"The audio released was selectively edited and taken out of context,'" Ellison, D-Minn., said Thursday in an open letter to Anti-Defamation League CEO Jonathan Greenblatt. "My memory is that I was responding to a question about how Americans with roots in the Middle East could engage in the political process in a more effective way. My advice was simply to get involved."
Earlier Thursday, Greenblatt said that the remarks — contained in a short clip recorded at a 2010 fundraiser that was released this week by the Investigative Project on Terrorism — were "disqualifying" of Ellison's candidacy to lead the Democratic National Committee and were reminiscent of classic anti-Semitic stereotypes that Jews control the government.
"The United States foreign policy in the Middle East is governed by what is good or bad through a country of 7 million people," Ellison, the first Muslim elected to Congress, is heard saying. "A region of 350 million all turns on a country of 7 million. Does that make sense? Is that logic? Right? When the Americans who trace their roots back to those 350 million get involved, everything changes. Can I say that again?"
In his letter to Greenblatt, Ellison argued that his congressional record demonstrates his support for Israel and his opposition to anti-Semitism and suggested the recording was an attempt by political foes to "drive a wedge" between him and the ADL.
"I believe that Israel and the U.S.-Israel relationship are, and should be, key considerations in shaping U.S. policy in the Middle East," Ellison said. "Americans with roots or interests in the region should be involved in advocacy and discussions of public policy concerning the region. My response was meant to encourage those in attendance to increase their level of involvement and effectiveness."

Even before the release of the recording, critics hit Ellison over his past support of black supremacist leader and head of the Nation of Islam, Louis Farrakhan, suggestions that the 9/11 terror attacks may have been a false-flag operation, and ties to a Muslim Brother-linked organization.