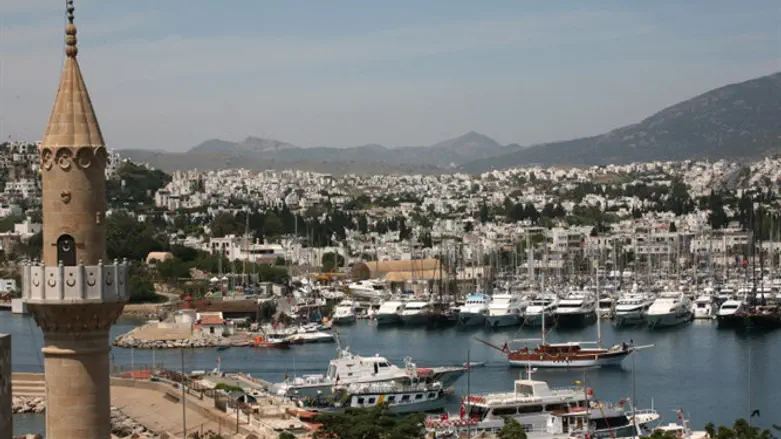 Turkey (from archives)
Flash 90
A Turkish prosecutor called on Friday for charges related to the 2010 Israeli raid on a Gaza-bound ship attempting to break the sea blockade imposed by Israel on Gaza in order to prevent arms shipments, to be dropped following diplomatic reconciliation between Turkey and Israel, state media reported.
The so-called "Mavi Marmara incident" in question occurred when IDF soldiers boarded the Mavi Marmara ship after Turkish Islamists posing as humanitarian aid workers refused to change their course from Gaza and dock at the Ashdod Port.
When the soldiers boarded the ship, the Islamists attacked them with clubs and knives, forcing the troops to open fire and resulting in the deaths of 10 of those on board.
Upon inspection, it was discovered that there was no humanitarian aid whatsoever aboard the Marmara.
The raid triggered a crisis in relations, with both countries withdrawing their respective ambassadors from the country capitals.
The rift came to an end in June this year after Israel offered an apology over the raid and $20 million in compensation - despite no wrongdoing on Israel's part.
Israel also agreed to allow Turkish aid to reach Gaza as part of the agreement.
Under the terms of the deal, both sides also agreed individual Israeli citizens or those acting on behalf of the Israeli government would not be held liable - either criminally or financially - for the raid.
On Friday the prosecutor told an Istanbul court that the case against the Israeli individuals should be dropped because of the agreement, state-run news agency Anadolu said.
Turkish prosecutors had been seeking life sentences for the alleged involvement of former military chief of staff Gabi Ashkenazi, former navy chief Eliezer Marom, former military intelligence head Amos Yadlin and former air force intelligence chief Avishai Levy, who went on trial in Turkey in absentia in 2012.
In October, families of the Islamists killed aboard the ship and lawyers told AFP they had no intention of dropping the lawsuits despite the deal.
One of the final key elements of returning to normal relations was the exchange of ambassadors, which will formally take place this month.
Israel's envoy Eitan Naeh arrived in Ankara on Thursday, and he is due to present his letter of credence to Turkish President Recep Tayyip Erdogan within days.
Meanwhile, Turkish Prime Minister Binali Yildirim's policy advisor Kemal Okem will start work as Turkey's ambassador to Israel on December 12, Anadolu said on Friday.