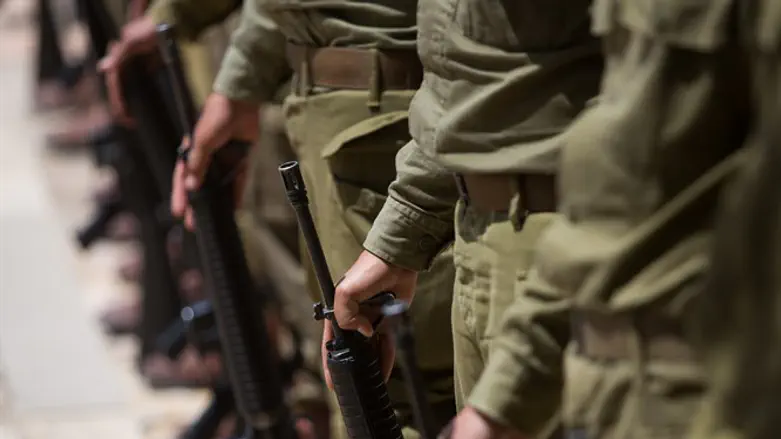 IDF soldiers
Yonatan Sindel/Flash 90
Veterans of the IDF are complaining about calls they receive from companies that pose as the Defense Ministry and offer scams in the form of non-existent benefits to those who have served in the IDF, the NRG news website reported.
Many companies are taking advantage of the activities of the official government fund that provides benefits to discharged soldiers to peddle their products or services. It is unclear how they acquire phone numbers which the IDF has not released. They profess to offer IDF veterans aid for study, work, or other needs, while falsely portraying themselves as representatives of the Defense Ministry.
Some veterans receive calls years and even decades after they completed their service. One soldier, who ended his IDF service in 1984, received a call saying that he had not fully 'redeemed' his benefits as an IDF veteran.
Another soldier, Omar Weber, said that he has been continually receiving calls from these fraudulent companies since the year 2000. "Even after I rejected them, they continued to call year after year." He said that he was offered the chance to register for psychometric courses and other products which are related to professional orientation, such as courses in laser eye surgery.
Hamda Marc, the head of the Fund for Discharged Soldiers, said: "Even my deputy and the soldiers here have heard from them. They are like the plague. They are using our name as an advertisement, because it makes them sound like they are from the Defense Ministry. It should be obvious that we are not interested in the Defense Ministry offering laser eye services."
Marc said that the soldiers' personal information was kept confidential by the IDF and was not shared with anyone. "We turned to the security officer from the Defense Ministry, and we know that they opened a police investigation...We tell soldiers to always verify who they are speaking with."