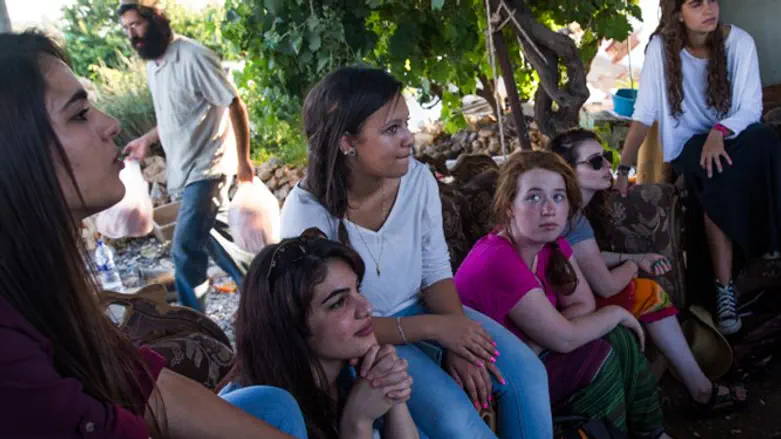 Israeli Jewish youth participate in coexistence meeting with Arabs
Flash90
More than 27,000 Jewish students met with Arab youth over the past year in "coexistence meetings" organized by the Ministry of Education, the State Control Committee revealed last week.
The meetings, which bring together Jewish and Arab students from across Israel, are intended to reduce cultural barriers between the two groups, foster a sense of national unity, and combat racism.
"A day in which a person is not discriminated against due to his race has yet to come," said committee chairwoman Karin Elharrar (Yesh Atid), "but the Education Ministry should work to encourage this day, and to eradicate the major problem of racism."
MK Elharrar praised the coexistence meetings, but demanded the Education Ministry take greater steps to combat racism.
"The [recently published[ State Comptroller`s report revealed that there is no master plan, and that even the existing plans have no supervisor, coordinator, no teachers` training, or guaging of displays of racism," said Elharrar, "and there is a minority of Arab teachers in Jewish schools."
During the committee hearing, Dana Friedman representing the Board of Education's Pedagogical Secretariat, testified that 578 Jewish schools held meetings with Arab students over the past year.
A spokesperson for the Lehava anti-assimilation group blasted the meetings, chastising the Education Ministry for what the group claims amounts to encouraging assimilation in Israel.
"It is very sad that the Education Minister, who says we'll fight against assimilation outside of Israel, is supporting assimilation in our holy country," the group said in a statement to Arutz Sheva. Meetings between Jewish youth and Arabs is a certain recipe for assimilation."
The Lahava spokesperson added that the organization was already aware of a number of cases of intermarriage which came about as a consequence of such meetings.
"Unfortunately there [have already] been cases [of intermarriage] that began with these meetings. The Education Minister should be encouraging meetings between secular and religious young Jews and haredi Jews, not between Jews and their enemies."
Arab MKs, on the other hand, were unimpressed with the government's efforts, and demanded radical changes in the education system.
MK Zouheir Bahloul (Zionist Union) accused the Education Ministry of "poisoning the brains of Israeli children," and demanded the government established mixed Arab-Jewish schools.
Joint List MK Yousef Jabareen suggested the state compel schools which have not held coexistence meetings to do so.