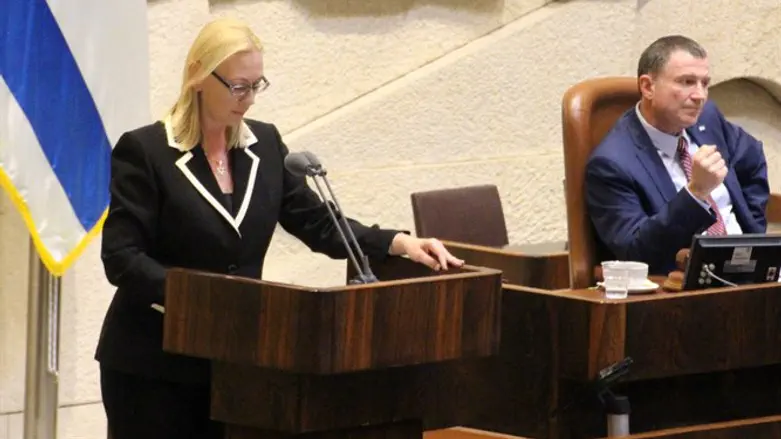 Yulia Malinovsky
Spokesperson
MK Yulia Malinovsky (Yisrael Beytenu) has called for the Committee on the Status of Women and Gender Equality to address the phenomenon of sexual assaults and harassment of Jewish women in mixed cities.
A number of MKs have joined Malinovsky's petition, including Bezalel Smotrich (Jewish Home), Anat Berko (Likud), Eli Cohen (Kulanu), and Rabbi Michael Michaeli (Shas).
Despite the obvious relevance of the subject to the committee, Malinovsky says fellow MKs have warned her that the effort is unlikely to gain traction there and have advised her to try other committees.
While the Committee on the Status of Women would normally be concerned with such a phenomenon, says, Malinovsky, the committee's current chair, Aida Touma-Sliman (Joint List) is widely expected to oppose any discussion on the subject.
Nevertheless, Malinovsky says she will not be deterred by the Arab MK's opposition.
"If we're talking about women's rights and sexual harassment, the natural place to deal with the issue is in this committee, regardless of who chairs the committee."
According to Malinovsky the number of women reporting harassment and assaults in mixed cities has spiked recently, yet little to nothing has been done to deal with the troubling trend.
"The girls are helpless, they're getting no assistance."
"No one really deals with the issue, ignoring them because it's not politically correct to talk about it."
The Yisrael Beytenu MK says she and her staff have met with between 20 and 30 women who shared their own stories of sexual assault and harassment.
"When we started to talk to these women, we saw that this was a pattern repeating itself in Upper Nazareth, Ramleh-Lod, and Jerusalem. They [the Arab attackers] tried to catch them in the dark; one tried to steal a woman's dog so they could shove her into a car; [in another case] they spit on a female soldier in Upper Nazareth; at the entrances to buildings they try to grope [women] in all kinds of intimate places."
"I'm unambiguous in calling this 'sexual terrorism'," Malinovsky said. "Sexual terrorism by Arab men against Jewish women, because it's safe to say they don't act like this towards their own women. Towards Jewish girls it's okay [they feel]. There are more and more calls for help, it's just being repeated over and over again. So I reached the conclusion that this needs to be addressed. I know that there will be opposition. Everyone loves to talk about sexual harassment and women's rights, but then there are issues that we like to avoid, and pretend that they don't exist – but they do exist."
The police, Malinovsky says, not only fail to address the problem, they work to conceal its prevanlence.
"When you try to get figures from the police, somehow they don't exist. I have the feeling they're just trying to hide the numbers, because it's unpleasant to talk about. We love to conceal things in our society, as if sexual harassment only happens between CEOs and their subordinates. That we talk about."
"They would never, ever do any of this to their own women. I asked [Druze] MK Hamad Amar (Yisrael Beytenu) if this happens [in the Druze sector]. He said to me 'Are you crazy? If someone would do that, they'd be dead within an hour.'"
The Knesset presidium will rule on Malinovsky's request on Monday. If granted, it would oblige the committee to hold a hearing on the matter within 10 days, regardless of any objections by chairwoman Touma-Sliman.