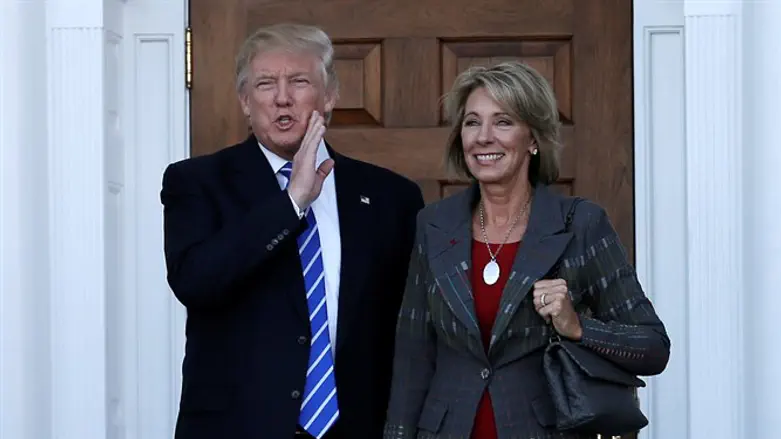 Betsy DeVos with Trump
Reuters
Nathan Diament, the executive director of the Orthodox Union Advocacy Center, stated that President-elect Donald Trump's selection of Betsy DeVos as his Secretary of Education is good for the Orthodox Jewish Community in the US, the Algemeiner reported.
Diament called DeVos' nomination a "clear signal" that Trump would follow through on a campaign promise that made him "attractive" to Orthodox Jews, to support school choice.
Part of Trump's promise to support school choice was to establish tax-break vouchers to support parents who choose to send their children to private schools, such as Jewish day schools. Diament called this pledge the "number one kitchen-table domestic policy issue for the Orthodox community" because of the prohibitive costs of Jewish education in the US. Tuition in Jewish schools often costs many thousands - or even tens of thousands - of dollars per child.
According to Diament, Trump "spoke of reallocating $20 billion in federal-education spending to school-choice programs. That has the potential to greatly assist the Jewish community with its affordability challenge."
Diament said that DeVos "has a track record" of supporting charter schools, a key issue for school-choice advocates.