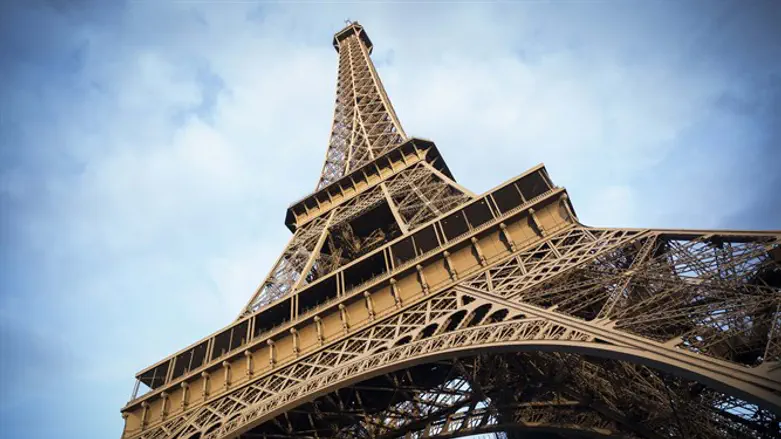 Eiffel Tower in Paris, France
Flash 90
Israel reacted angrily on Thursday after France issued a directive to all importers and retail chains in the country that they must now label products originating in Judea, Samaria, eastern Jerusalem and the Golan Heights.
The directive is an application of the guidelines issued last year by the European Commission.
According to the new provision, "The Golan Heights, eastern Jerusalem and Judea and Samaria are occupied territories and are not considered part of Israel. Therefore, in order to avoid misleading consumers, please mark products from those places and make it clear where they came from - and refrain from indicating they were made in Israel."
Local retail chains and importers are required to clearly indicate that these products were produced in "occupied areas" to avoid confusion with Palestinian Authority-based products.
Diplomatic officials in Jerusalem said they were puzzled as to why France chose this present moment in time to publish the directive, since the EU guidelines have existed for over a year but so far have not been implemented.
The Foreign Ministry issued a strong response to the decision, stating, "The Israeli government condemns the French government's decision to implement the guidelines of the European Commission in relation to marking Israeli products originating beyond the '67 borders."
"We regret that France, at a time when there are anti-boycott laws, promotes such measures, which can be interpreted as a boost to radical elements and to the boycott movement against Israel. Moreover, it is puzzling and disturbing that France adopts a double standard in relation to Israel, while ignoring 200 territorial conflicts currently taking place around the world, including those taking place right on its doorstep," added the Foreign Ministry's statement.
Following last year's EU decision with regards to the labeling, Prime Minister Binyamin Netanyahu, who is also foreign minister, ordered a freeze in discussions with EU on the peace process.
Several months later, however, Netanyahu and EU foreign policy chief Federica Mogherini agreed to end the freeze on talks on the Israeli-Palestinian conflict. Mogherini told Netanyahu at the time that the labeling decision "does not prejudge the outcome" of the conflict.
EU officials have insisted that the guidelines do not constitute a boycott of Israeli communities in Judea and Samaria.
To that end, EU Ambassador to Israel Lars Faaborg-Andersen said in March that the European Union is opposed to the anti-Israel Boycott, Divestment and Sanctions (BDS) movement and that the body's decision to label products from Judea and Samaria did not constitute a boycott.
While Faaborg-Andersen reiterated the EU's stance that Israeli "settlements" are "illegal under international law" and "a hindrance to the peace process", he stressed the EU was not boycotting Israel.
"Our policy is engagement with Israel. We are Israel's largest trade partner, and we are Israel's most important international partner in science, technology, and the list goes on," he said.