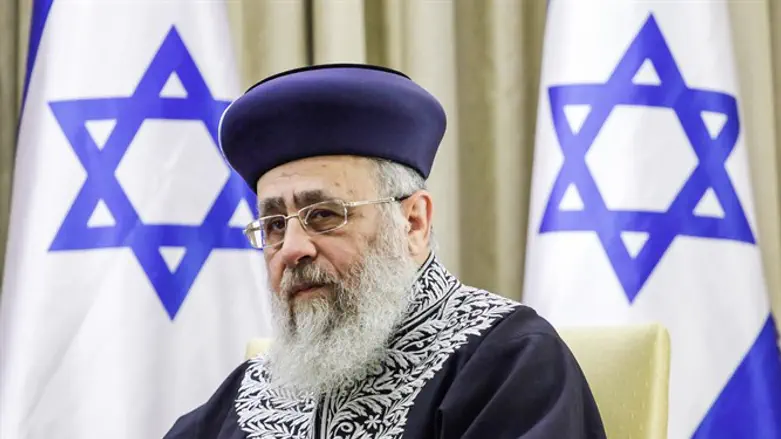 Israeli Chief Sephardic Rabbi Yitzhak Yosef
Flash 90
Sephardic Chief Rabbi Yitzhak Yosef has taken a stand and in an unusual step has asked to be added as a respondent to the petition by Meretz MKs against the appointment of Eyal Karim as IDF chief rabbi.
"The Torah of Israel and the rabbis of Israel are being adjudicated today and it is my duty as the Chief Rabbi of Israel to represent them, " said Rabbi Yosef. "The goal of the petition is to apply censorship to the Torah of Israel, a censorship reminiscent of dark periods in Jewish history."
In his request to the High Court Rabbi Yosef said that he is the "mouthpiece for the rabbis of Israel wherever they are. The petitioners request in their petition to shut the mouths of the rabbis of Israel and prevent them from continuing thousands of years of Jewish tradition of teaching Torah to the Jewish nation.
"The Torah cannot change and rabbis cannot change a letter of the Torah as it was transmitted to us at Mount Sinai, both the written and oral Torah."
The rabbi asked to join the respondents to "protect the autonomy of rabbis in Israel to fulfill their Torah mission."
Rabbi Yosef added that the statements of Rabbi Karim were clearly not a halakhic ruling but merely a quotation of verses in Devarim (21:10-14).
Rabbi Yosef also attacked Meretz members who wished to place the Torah under criticism and censorship and expressed his hope that the court of the Jewish state would not aid the attempts to harm the rabbis of Israel and the Torah of Israel.
Other leading rabbis also expressed their objection to the High Court request for confirmation of Rabbi Karim's views, among them Rabbi Haim Druckman and other associates of Rabbi Karim.