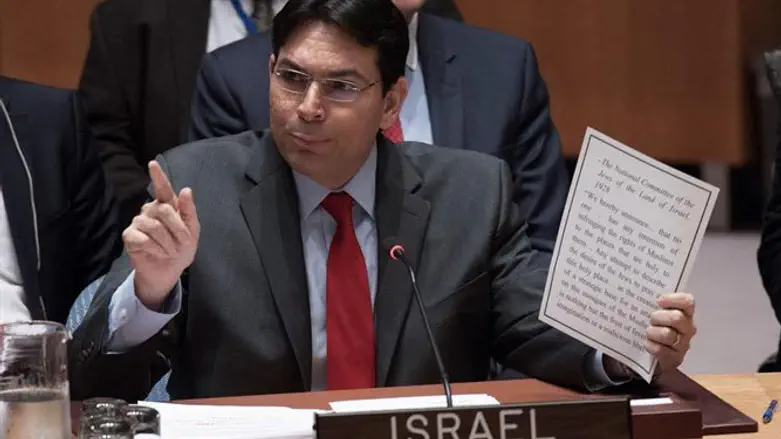 Danon in UN
UN Photo/Kim Haughton
Israeli Ambassador to the United Nations, Danny Danon, addressed the Zionist Organization of America's annual gala on Sunday, warning foreign diplomats looking to force through one-sided resolutions at the United Nations during the White House transition.
Danon, who was recognized at the event for "outstanding diplomacy", told participants of the efforts by some to take advantage of President Obama's lame-duck term and the disorder caused by the transition from the old administration to the new.
"[J]ust recently," said Danon, "senior diplomats from various countries told me that they plan on taking advantage of the transition period to advance a one-sided resolution against Israel."
The Ambassador declared that Israel would not be forced into taking steps that would be harm its national security.
"One thing is clear: Such a resolution will be dangerous for Israel. We will not be pressured to make concessions that will endanger our people."
Regarding rumors that the Obama administration may be preparing a last-ditch effort to force a framework for a final status agreement on Israel and the Palestinian Authority, Danon reiterated his hope that America's support will continue until January twentieth," inauguration day, "and beyond."
Even with the continuing threats at the international body, Danon noted the shift in the world community away from the latent hostility towards Israel that once led the UN to adopt a resolution declaring Zionism to be racism.
"Despite all the darkness and the dangers, the world – and even the Middle East – is slowly rejecting the notion that Israel is the problem. Ambassadors stop me every day in the halls of the UN and tell me how much they want to learn from Israel. Every week we hold an event at the UN showcasing Israeli innovations and technology and displaying the beauty of our society."