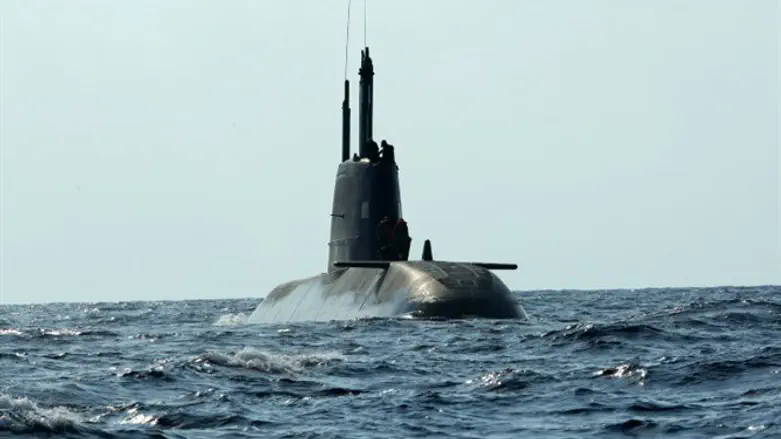 Israeli navy Dolphin-class submarine
Flash 90
The IDF spokesman referred for the first time to the topic of purchasing submarines from Germany, stating that "the matter concerns the future acquisition of three submarines in over a decade from now which will take the place of older submarines.
"The need for the submarines was presented recently to the cabinet by the IDF in the course of ongoing discussions at various levels between the Prime Minister, the Defense Minister, the cabinet and the Foreign Affairs and Security Committees," said the spokesman.
The announcement comes after a previous announcement made by the National Security Council in response to a Channel 10 investigation. The investigation instigated by journalist Raviv Drucker claimed that Israel had decided to purchase three submarines from a German company because, among other reasons, the company was represented by attorney David Shimron, the Prime Minister's attorney.
The National Security Council announced that "The acquisition of ships was done in a professional, organized way without any external influences. In the course of preparations to protect natural gas fields and installations the government decided to purchase four ships. The decision was taken on recommendation of the security administration, the National Security Council and the Foreign Ministry. During the course of our investigation, a number of possibilities were suggested for acquiring ships in accordance with the operational requirements of the IDF. At the end of our professional investigation it was decided based on political, operational, technological and budgetary considerations to base the acquisition on the agreement between the Israeli and German governments."
The Council stressed that, in contrast to what was claimed, Defense Minister Yaalon was involved in the decision-making process. "The decision was supported by then Foreign Minister Avigdor Liberman, the Finance Ministry, and various officials from other government offices. It was also supported by then-Defense Minister Moshe Yaalon in accordance with the IDF's position. Within the framework of the deal, Israel was granted a significant grant from the German government by virtue of the special relationship between the two nations, rendering the cost of the project lower than any of the other alternatives."