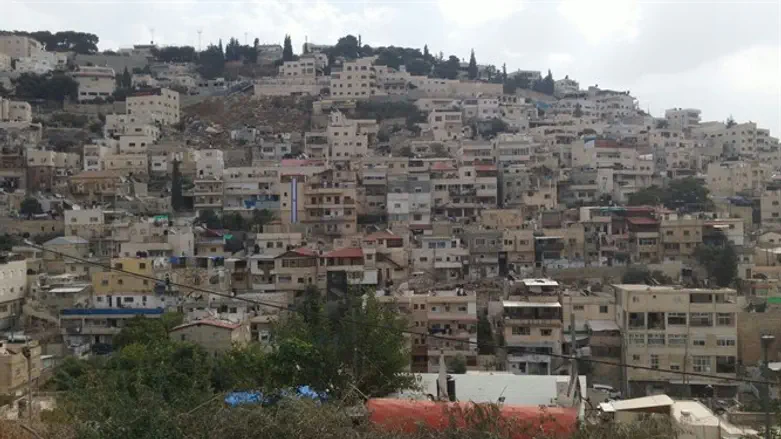 Silwan (Shiloach)
Ateret Cohanim
Ha'aretz reported this morning that the Ateret Cohanim organization, which works to ensure the rights of Jewish landownership in Jerusalem's Old City and in eastern Jerusalem, has submitted an evacuation order against nine Arab families in the eastern Jerusalem neighborhood of Silwan.
Thus far, the organization has submitted 72 such orders against Arab families in that area due to their residency where the Jewish "Yemenite Village" neighborhood stood at the beginning of the 20th century.
In 2001, the magistrate court officially appointed Ateret Cohanim to continue the legacy of the original "Hekdesh Benvenisti" organization, which the local Jewish community established in 1899 to oversee the development of the Yemenite neighborhood.
Since then, Ateret Cohanim has worked to evacuate Arabs living in the neighborhood on Jewish property. In the past two years, legal procedures gained momentum as several Arab families were evacuated.
According to the report, last year the Abu-Nab family was evacuated due to the family's illegal residence in what was once the ancient synagogue of the Yemenite Village. As of late, the building is undergoing renovations so as to make it a functioning synagogue again. A giant "star of David" which lights up at night has been installed on the building's roof.
Investigator for the left-wing "Ir Amim" ["City of Nations"] group, Aviv Tatarsky, told the paper that "the government of Israel, which helps remove residents of Batan al-Hawa [in Silwan] from their legally-obtained homes, is the same government that breaks ethical norms and proper protocol in order to ensure that the people of Amona remain on the lands of Silwad."
He continued, "Getting out of the dead-end of 'Greater Israel' will only be possible if they recognize the rights of Palestinians in Jerusalem and internalize the need for the two peoples to come to a political solution."
Attorney Moshe Segal, representing "Hekdesh Benvenisti," said in response: "The various courts, and at their head the Supreme Court, ruled that the "Hekdesh" is the sole owner of these properties, and it is expected that the rulings of the courts will be respected accordingly."