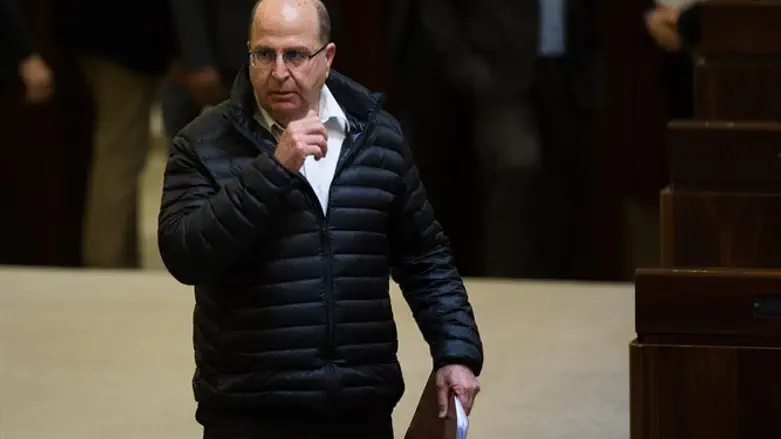 Moshe Ya'alon at Knesset plenum
Yonatan Sindel/Flash 90
Former Defense Minister Moshe Ya'alon responded to rumors claiming he plans to join center-left party Yesh Atid.
"I meet with a lot of politicians, but contrary to the rumors, I have no intention of being number 2 in Yair Lapid's party, even if we ignored the fact that the two of us disagree on too many issues," Ya'alon said.
On Thursday, Yesh Atid Chairman Yair Lapid, whose aspirations to the prime minister's office are public knowledge, met with Ya'alon in his north Tel Aviv office, and the two spoke about the possibility of Ya'alon joining Yesh Atid.
Ya'alon resigned from his position as Defense Minister after criticism from Netanyahu for his publicly expressed opinion that IDF soldier Elor Azariya was guilty before an investigation took place and when did not reprimand the Deputy Chief of Staff for remarks on Holocaust Remembrance Day which suggested that Israel had parallels with Germany in the 1930s. He announced at the time that he would return to politics to compete for the "national leadership of Israel."
After Ya'alon left politics, Lapid said, "The old politics have gone under. It happened a while ago, but this week it happened in front of cameras. it was an embarrassing scene that every Israeli citizen is ashamed of."
"For everyone's sakes. We don't deserve this. None of us deserve a political system that we're embarrassed of. It shouldn't be this way, and we won't stop until it changes," Lapid concluded.