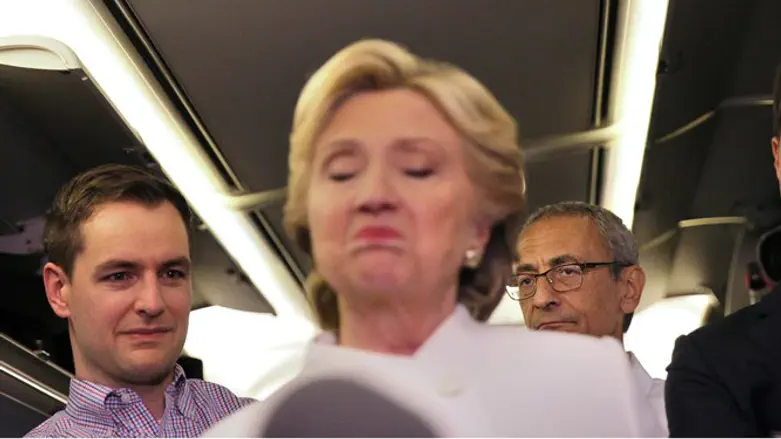 Clinton and campaign manager John Podesta (right)
Reuters
Rejected Democratic candidate Hillary Clinton blamed FBI Director James Comey on Saturday for Trump's win. In her opinion, Comey raised questions about Clinton's ethics when he questioned her use of a private email server just days before the presidential elections.
The FBI had closed the case on Clinton's email scandal several months before the election, reopening it again after more emails were found in the probe of Anthony Weiner's messages and the FBI suspected it had not seen critical emails.
Just before elections, Comey went against Justice Department policy and released a letter to Congress. In the letter, he said the FBI had cleared Clinton and saying the few new emails they had found were not significant to the case.
At the time, Donald Trump reacted by saying that FBI Director Comey was under "tremendous pressure" to clear Clinton's name and that the fact that she deleted thousands of messages was enough to discredit her.
Head of Clinton campaign opinion research division Navin Nayak sent a letter to his staff saying Comey's letter was responsible for Clinton's defeat.
"We believe that we lost this election last week," he wrote in a letter obtained by Politico. "Comey's letter in the last 11 days of the election both helped depress our turnout and also drove away some of our critical support among college-educated white voters - particularly in the suburbs. We also think Comey's second letter, which was intended to absolve Secretary Clinton, actually helped to bolster Trump's turnout."
In addition to the private server email issue, it was revealed that Hillary Clinton also asked her maid, who did not have the appropriate clearance, to print confidential emails for her.
When asked, 83% of voters felt Clinton's actions were "unethical."
Analysts cited other issues, such as the Clinton campaign's neglect of "blue" states which her staff considered sure wins and poor Democratic voter turnout.