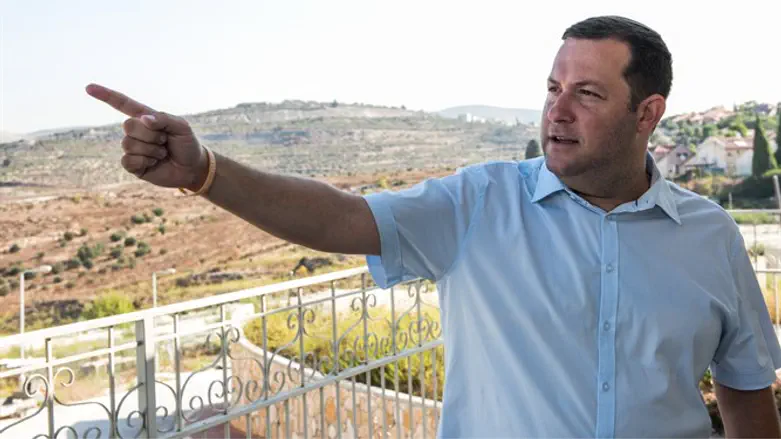 Yossi Dagan
Gur Dotan
Samaria Regional Council head Yossi Dagan spoke with Arutz Sheva about Donald Trump's stunning victory in the US presidential elections.
Dagan hopes that Trump's victory means the end of construction freezes on Jewish communities in Judea and Samaria.
"As the head of a regional council, I should not be involved in the politics of another country." Dagan said as he explained his support for the Republican candidate. "But when Trump headquarters came to me and asked for my help I realized that I could not stand by and watch again how the Democrats treat the land of Israel, and how they pressure us as if we are kindergarten children."
"It doesn't make any sense that 500,000 people in Judea and Samaria and another 400,000 in Jerusalem should lose their rights in the land of Israel. Therefore, supporting Trump was an important step in my eyes."
Dagan said that a Trump administration is very good news for all Jewish communities in Judea and Samaria. "This is a holiday for us. It is a holiday for the citizens of Israel, particularly the residents of Judea, Samaria, and Jerusalem. The era of Obama's evil obsession with the building of kindergartens and day care centers is over."
"I know the people who are in Trump's close circle personally." Dagan added. "Some of them donated to the communities here. I met many of them on tours we gave in Samaria, including many of the ones who were involved in writing the (Republican) party's platform. We've contacted people like (Trump's Israel adviser) David Friedman, and I must say that some of them are even to the right of some of our rightist government ministers."
The Samaria Regional Council head said that his efforts were not limited to reaching out to American-Israeli dual citizens,but that he also reached out to pro-Israel conservatives in the US to make it clear to them that Trump was receiving support from Samaria. "It was important to us that they go out to vote."
Dagan added that "It was also very important for us to send a message to the US that we are not children they can punish, and that our elected officials will act to prevent Jewish rights from being frozen in Israel and Samaria."
Dagan has one worry, however. He fears that the Israeli government may not take advantage of the opportunities Trump presents and maintain its current policy of building as little as possible in Judea and Samaria. Netanyahu now has no excuse to suspend construction.
"The government has to accept that this is an opportunity that only comes along once in a few generations to change the equation. I expect the Israeli government to announce that it is ending all restrictions on construction and preventing the tragedy of Amona."