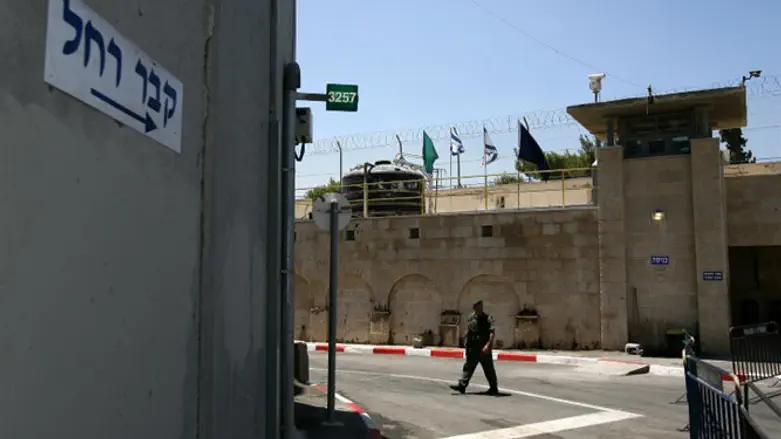 Rachel's Tomb
Flash 90
21 Arab terror suspects were arrested over the course of the past several months on suspicions of throwing rocks, firecrackers, and homemade explosive devices at those coming to pray at the Tomb of the Matriarch Rachel at the outskirts of Bethlehem, just south of Jerusalem.
The suspects, 16 of whom are under the age of 18 and who live in Judea and Samaria, were arrested as part of recent police operations to crack down on Arabs terrorists whose actions threaten the security of those coming to pray at Rachel's Tomb.
During the course of investigations, it was revealed that, in most cases, the suspects worked together as a cohesive "ring" that systematically and methodically planned the obtainment of firecrackers and the preparation of homemade explosives.
It was also revealed that the suspects prepared the explosives based on instructions they had read on the internet.
The suspects would gather near the Tomb, generally on Friday afternoon; they would approach the Tomb, throw the explosives, and run off. Often, their retreat would also include rock-throwing.
The suspects obtained the firecrackers from a building-supply store in the Aida refugee camp. During the course of police operations, police confiscated hundreds of boxes of firecrackers from the store.
Police said this morning, "Police view seriously disturbances at the Tomb of Rachel. [These disturbances] caused damage and endangered the lives of those coming to pray and security forces. Police activity at the facility, both overt and covert, including arrests and suspect investigations and the bringing of suspects to justice, will continue. Most of the suspects have had charges issued against them pending indictments."
The Patriarch Jacob's wife Rachel died in childbirth and was buried on the road to Bethlehem (Genesis 35: "She was buried on the road to Efrat — now Bethlehem. Over her grave Ya'acov set up a pillar, it is the pillar at Rachel's grave to this day"). Jews have prayed there since Temple times, although there is some controversy about the location. Moses Montefiore rebuilt the tomb in 1841 and received the keys which he gave the Jewish community.
The Oslo Accords placed Bethlehem in the Palestinian Authority, but the tomb and access to it from Jerusalem remained in Israeli hands. Violent Arab attacks on worshipers led to the building of concrete barriers separating the tomb from rest of Bethlehem. The site is filled with prayer every hour of the day and especially now, as the yahrzeit of Rachel on the 11th of Cheshvan (this year on November 12) approaches.