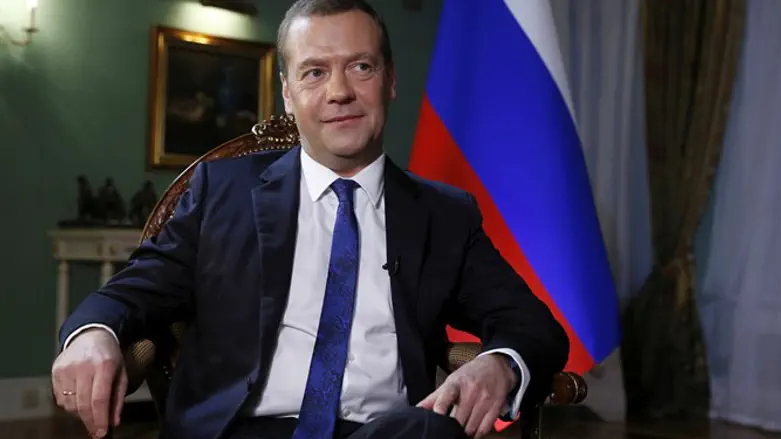 Dmitry Medvedev
Reuters
Russia's sale of S-300 air defense missile systems Iran does not contradict the good relationship between Russia and Israel, Russian Prime Minister Dmitry Medvedev said Saturday.
Medvedev was speaking in an interview with Channel 2 News and quoted by the Russian Tass news agency. Then interview comes ahead of Medvedev's visit to Israel, scheduled for November 10.
"We have warm, very good relations with Israel and we are hoping to further their development. For this sake, I am coming to Israel. Also, we have relations with other countries, namely Iran and other regional countries as well," Medvedev said in the interview, adding that Russia had joined the sanctions against Iran and refused to sell it weapons until the Iran nuclear deal was sealed.
"I remember how during practically my first meeting with (U.S.) President (Barack) Obama, he said that the Iran nuclear program was issue 'number one' for him," Medvedev told Channel 2 News.
While he was Russia's president, Medvedev suspended the sale of the S-300 to Iran. Last year, however, current Russian President Vladimir Putin signed a decree lifting a ban on the delivery of the S-300 to Iran, explaining that his decision was motivated by Iran's drive to find a solution in talks over its nuclear program.
Despite the lifting of the ban, the sale has been repeatedly delayed due to Western pressure given that UN nuclear sanctions ban the delivery to Iran.
According to Medvedev, Russia began to act "within the framework of reality that exists now" once the deal with Iran was reached and sanctions were lifted.
"Certainly, we are not eager to whip up tensions, although we are also going to build comprehensive relations with Iran," he said, adding the contacts with that country had "sufficiently intensified both in the economy and in supplies of weapons and military material."