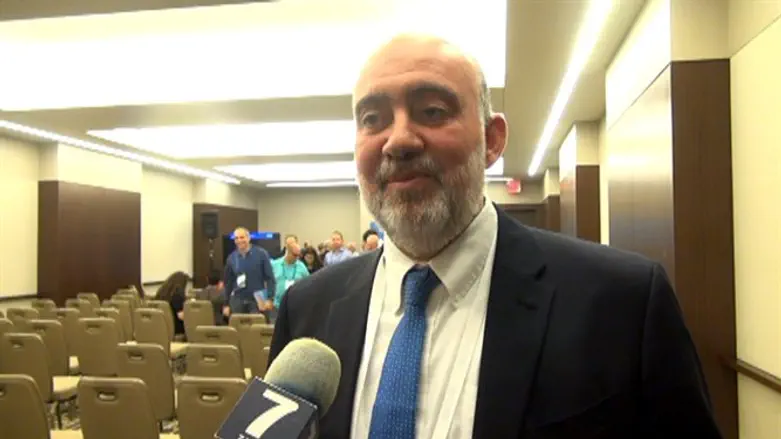 Ron Prosor
Photo: Yoni Kempinski
Following a presumed renormalization of relations between Israel and Turkey, the PM is reportedly interested in appointing veteran diplomat Ron Prosor as Israeli Ambassador to Turkey, according to Yisrael Hayom.
Prosor has served as Director General of the Israeli Ministry of Foreign Affairs, as well as Israel's Ambassador to the UK and to the UN. Several months ago, Prosor left the foreign ministry, and has since been affiliated with the Interdisciplinary Center in Herzliya.
Netanyahu's reported interest in appointing Prosor comes after Ankara announced that it would appoint close Erdogan advisor Kemal Okem as Turkey's ambassador to Israel.
According to the report, at this stage it is still unclear whether Netanyahu will appoint Prosor or choose from a string of candidates from the foreign ministry who have expressed a desire for the position.
The recent steps towards renormalizing relations come after a diplomatic cut in ties following the 2010 incident in which IDF soldiers boarded the Turkish "Mavi Marmara" flotilla that was headed for Gaza under the pretext of providing humanitarian aid, but was meant to break Israel's blockade of the coast which prevents weaponry from reaching Hamas.
Upon boarding, the soldiers were violently attacked by the Islamist extremists on board with clubs and knives.
The IDF soldiers had no choice but to defend themselves, which resulted in the deaths of 10 on board the ship.
Following the incident, Turkey withdrew the Turkish ambassador to Israel. Negotiations resulted in Israel paying compensation to the families of those killed and an agreement signed in July 2016.