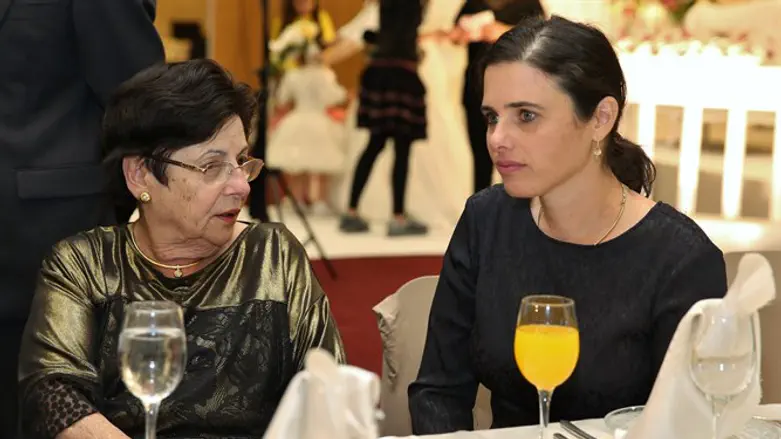 Naor and Shaked
Yaacov Cohen/Flash90
High Court Chief Justice Miriam Naor sent a sharp letter Wednesday to Justice Minister Ayelet Shaked in the wake of the proposed law cancelling the need for a majority of 7 out of 9 members of the selection committee when selecting new judges.
Naor wrote initially that despite the proposal being a private MK's proposal, since it has been publicized that Shaked supports the proposed law and she has not denied her support, she assumes that Shaked indeed stands behind the initiative.
"Submitting this proposal at the present juncture constitutes 'placing a gun on the table'. It means that if some members of the committee will not express their approval of certain candidates, and there will not be a special majority enabling their appointment, the constitutional 'rules of the game' will change so that they can be appointed by a regular majority of the selection committee," wrote Naor.
Naor said that "This situation does not allow us, the judges on the High Court who are members of the judicial selection committee, to continue to consult with you and attempt to reach agreements on appointments. We cannot continue to interact when the final rules may change while we are in consultation.
"Therefore I am forced to announce - with the approval of my colleagues Elyakim Rubinstein and Salim Jubran- that we have no intention of continuing our interaction and pre-consultations with regard to drawing up lists of candidates and possible mutually agreed candidacies. Each of us will work independently within the judicial selection committee according to the law," said Naor.
Naor added "I wish to emphasize that we do not intend to intervene in the Knesset's legislative procedures even when they constitute a change in the 'rules of the game' . We are also not involved in speculations about possible legislative processes or their propriety. However, it is clear that, just as the legislative authority acts as it sees fit, we too - the judges who are members of the judiciary selection committee - will each act as we see fit, all within the confines of the law."
Naor concluded by saying that "Even though I am upset that we have come to this, I want to emphasize that, from my point of view, there is no reason not to continue our professional meetings as before, with full cooperation, regarding all the other aspects of our mutual work."
Shaked's office responded by saying that "The meetings of the judiciary selection committee will continue as before. In the coming days a list of candidates for High Court judges will be published."