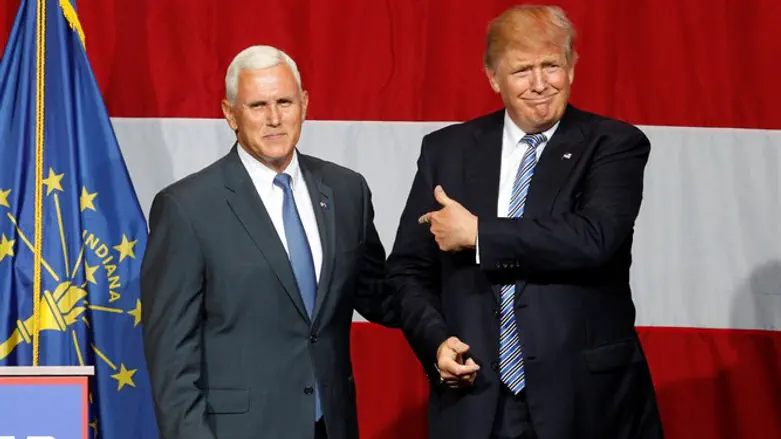 Donald Trump with Indiana Governor Mike Pence
Reuters
Exactly one week before Election Day, polling continues to shift in favor of Republican presidential nominee Donald Trump, whose campaign has been buoyed by the October 28th announcement by FBI director James Comey that the investigation into Hillary Clinton's handling of classified emails had been reopened.
In the latest survey, the ABC/Washington Post tracking poll, Trump now leads his opponent by one point – 46% to 45%.
This represents a massive shift since October 23rd, when the same poll gave Clinton a stunning 12-point advantage over Trump. The poll was touted at the time by Democrats, who jumped on it as proof that Clinton's election was a shoe-in.
After weeks of leaked Clinton campaign emails and the FBI announcement, however, Clinton's lead has declined sharply.
According to the RealClearPolitics average of polls, Clinton's 7.1% lead from just two weeks has collapsed to just 2.4%. But even that average underplays Clinton's decline, with most of the polling having taken place prior to Comey's bombshell announcement. If polls taken entirely before the announcement are removed, Clinton's average falls further, to just 1.2%.
Trump has also gained momentum in battleground states like New Hampshire, Virginia, North Carolina, Colorado, and Pennsylvania.
According to the latest New Hampshire Journal/Inside Sources poll, for instance, Trump now leads in the Live Free or Die state by 2 points, 45% to 43%.
In Pennsylvania, which has consistently gone Democrat in every presidential election since the 1990s, Trump has narrowed the gap in recent polls, trailing Clinton by just 2 points according to separate ESA/Pulse Opinion Research, Remington, and Reuters/Ipsos polls, and by 3 points according to Gravis.
With its 20 electoral votes, Pennsylvania has long been part of the so-called "Democratic firewall," and is a must-win state for Clinton.