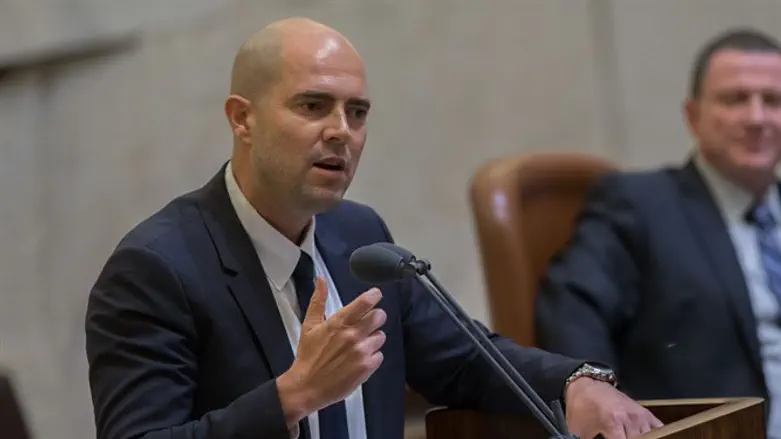 Amir Ohana
Yonatan Sindel, Flash 90
MK Amir Ohana (Likud) submitted on Monday morning a law cancelling the National Service positions in NGOs whose main funding is provided by foreign governments. Most of these organizations are leftist.
Israeli Prime Minister Binyamin Netanyahu expressed support for Ohana's law.
The new law would put an end to the trend of anti-Israel organizations receiving National Service volunteers who are paid by the government. As well, it attempts to ensure no National Service positions are given to organizations which will threaten Israel in the international and political battles, by using their foreign funded money to promote foreign governments' interests at Israel's expense.
MK Amir Ohana explained his law, saying, "We need to heal Israel's immunity. It's absurd that we're providing manpower to organizations working to forward other governments' interests. It's absurd that we're funding the very organizations who depict Israel as a war criminal, support terrorism, and tell disgusting lies about Israel's citizens, army, and soldiers.
"This is why I submitted this proposal. The law works to strip organizations funded by foreign governments of their eligibility to be considered for National Service positions. I'm happy PM Netanyahu has supported my bill and I hope the rest of the coalition will do so as well," Ohana said.
Im Tirtzu CEO Matan Peleg said, "This law will fix a historic mistake and end the absurd situation in which organizations working to de-legitimize Israel and work against the State at home and abroad enjoy the country's fruits.
"The trend in which the state funds those who seek to destroy it must stop. We are grateful to MK Ohana and encourage the government to do a thorough self-examination in order prevent public funding from going to anti-Israel organizations, whether the money goes through academic, National Service, or cultural channels. Im Tirtzu will continue to lead the fight against de-legitimization and work to protect Israel from those who wish to harm the State from within or without."