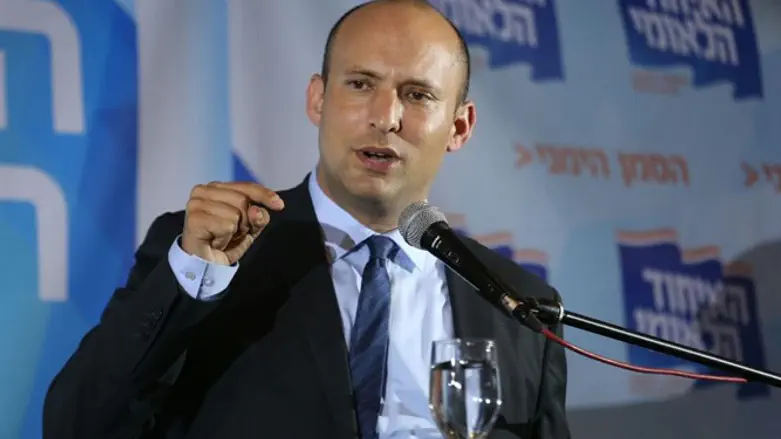 Naftali Bennett
Hillel Meir
Education Minister Naftali Bennett (Jewish Home) called for Israel to extend its sovereignty over Judea and Samaria at the National Union conference in Jerusalem.
"Something new is starting, and something new is continuing." Bennett said at the conference, where he was the guest of honor. "When we started four years ago, we knew that we had to do this together, and we did it together, despite it not being easy. We did it once, we did it twice, and we have to be united again."
"The National Union party brought the idea of unity to religious Zionism. You, who were the National-Religious party before, opened the door to non-religious Jews. That was a dramatic step. I see here haredim and secular people. I see Jews and non-Jews who believe in (the cause of) Zionism, who believe in the path of the Jewish Home and the National Union. Anyone who believes in our principles is welcome to join us."
Bennett recounted his recent visit to Gush Etzion. "Gentlemen, it is time to extend our sovereignty in the land of Israel. On Friday my family and I had the chance to go out to visit Oz VeGaon in Gush Etzion. When they found the bodies of the three boys a little over two years ago, two women decided to do the impossible, and to make it so that that place belonged to us,the Jews. Nadia Matar and Yehudit Katzover: they had that vision and determination already that very night, They sent out messages on WhatsApp and then hundreds and later thousands of good Israelis-from Judea and Samaria, but also from Tel Aviv-and today there is a beautiful memorial to the glory of the Nation of Israel."
"Why do I say this? The entire story of settling (the land) and Zionism is a story of a great vision and the determination to see that vision through. Herzl was a dreamer, put he was determined and persevered. Ben Gurion and the pioneers before him, and the fathers of this generation's settlements, Hanan Porat, and Moshe Levinger, and all of the settlements. And each time there was a clear vision and the determination to carry out that vision. The next step is the responsibility of us all...after 50 years, it is time for sovereignty."
Bennett spoke of the possibility that the UN Security Council would pass a resolution against the Jewish towns in Judea and Samaria, and said that Israel should prepare an appropriate response for such an eventuality. "There is discussion that in the coming months the UN Security Council will force a resolution on Israel. If that happens, we need to have an appropriate Zionist response, immediate sovereignty over Judea and Samaria, including Maaleh Adumim, Gush Etzion, Ariel, Ofra, and Beit El."